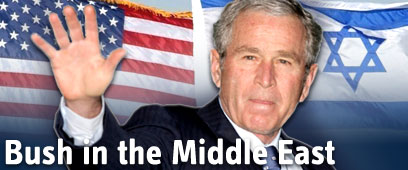 Palestinian forces getting ready
Photo: AFP
RAMALLAH – In the absence of progress on the diplomatic front, Mahmoud Abbas will be forced to renew his dialogue with Hamas – this is the message which the Palestinians intend to convey in their talks with US President George W. Bush, who is scheduled to visit Ramallah on Thursday.

The Palestinians are preparing for Bush's arrival, with security forces patrolling around the Muqta'a and clearing vehicles parked on roads leading to the government compound.

Bush Visit

PM Olmert says Israelis, Palestinians 'very serious' about promoting two-state solution; President Bush stresses peace means concessions from both sides, says that Palestinian right of return should also be discussed

The Palestinians were delighted to hear the American president calling for all issues pertaining to a final-status agreement to be placed on the negotiations agenda, including the right of return. However, they were far less enthusiastic over Bush's remarks regarding ongoing rocket attacks on Sderot and its vicinity. The US president said that he intends to discuss the Qassam fire with Abbas and ask him what he plans to do on the matter.
PA wants US guarantees
A senior Palestinian source told Yent that the Palestinians do not have an answer regarding the possibility of curbing rocket fire from the Gaza Strip.

"We expect that this will not become a major issue, because our situation on this issue and our limitations are clear," the source said. "On the other hand, we expect the American president to assist us in creating a mechanism for implementing the understandings reached in Annapolis and the understandings to be reached in talks on a final-status agreement."

According to the source, the most critical point for the Palestinians is to see President Bush providing American guarantees for genuine negotiations and a promise that the seven committees of the negotiation teams will be working seriously.

"We expect that Bush make it clear that the purpose of this round is to reach an agreement within a year," the source added. "We will make it clear to him that continued settlement activity and the continued construction of the fence will undermine the chances of reaching such agreement. Without a serious diplomatic agreement with Israel, the Palestinian leadership will have to reconsider its moves in the domestic Palestinian arena, including the renewal of dialogue with Hamas.