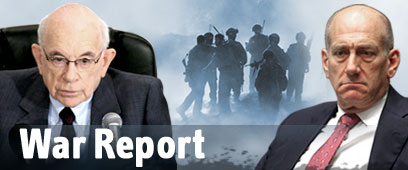 Winograd at the press conference in Jerusalem
Photo: Reuters

Olmert and Defense Minister Barak receiving report
Photo: Avi Ohayon, GPO

Former Chief of staff Halutz
Photo: IDF Spokesperson's Office
"Overall, we regard the Second Lebanon War as a serious missed opportunity. Israel initiated a long war, which ended without its clear military victory," the Winograd Commission concluded in its final report on the conduct of Israel's political and military leadership during the 33-day war in southern Lebanon in the summer of 2006.

Long-Awaited Report

Read full text of Judge Eliyahu Winograd's press conference on inquiry into 2006 Lebanon war

Speaking at a press conference in Jerusalem Wednesday evening, retired Justice Eliyahu Winograd said the committee found "serious failures and shortcomings in the decision-making processes and staff-work in the political and the military echelons and their interface."

However, Winograd added that "we are persuaded that both the prime minister (Ehud Olmert) and the defense minister (Amir Peretz) operated out of a strong and honest assessment and understanding of what, to them, was seen as necessary for Israel's interests."

Winograd, who headed the commission of inquiry, said the IDF failed to provide an effective response to Hizbullah's rocket fire on northern Israel and determined that the war ended without a clear victory.

Winograd laid the majority of the blame for the outcome of the war on the military, but said the political echelon was also at fault for the weakness it projected.
'Last minute ground offensive failed'
Winograd also addressed the much-contested eleventh-hour ground incursion into southern Lebanon, ruling that the "last-minute ground offensive in Lebanon did not improve Israel's position".

The judge lamented the IDF's failure to stop Hizbullah's incessant rocket fire into northern Israel. "A semi-military organization of a few thousand men resisted, for a few weeks, the strongest army in the Middle East, which enjoyed full air superiority and size and technology advantages."

"After a long period of using only standoff fire power and limited ground activities, Israel initiated a large scale ground offensive, very close to the Security Council resolution imposing a ceasefire. This offensive did not result in military gains and was not completed. These facts had far-reaching implications for us, as well as for our enemies, our neighbors, and our friends in the region and around the world," Winograd told reporters.

However, the blame did not rest solely on the 2006 leadership. "These weaknesses resulted in part from inadequacies of preparedness and strategic and operative planning which go back long before the Second Lebanon War," he said.

Israel, the committee chairman determined, could not attribute any political achievements to military successes, "but rather depended on a political settlement, which did indeed have some positive aspects for Israel – it was a settlement that allowed the fighting to stop despite not having been settled in the battlefield."

Winograd continued to say that "serious failings and flaws in the lack of strategic thinking and planning, in both the political and the military echelons" as well as failings in the defense of the civilian population.

Associated Press contributed to the report