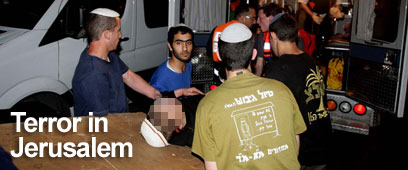 Paramedics alerted to scene of attack
Photo: Gil Yohanan

Security forces rushing to yeshiva
Photo: Gil Yohanan
A Palestinian terrorist infiltrated the Mercaz Harav rabbinical seminary in the Kiryat Moshe quarter of Jerusalem on Thursday evening and opened fire on a crowded study hall, killing eight people and wounding six others.
The names of the casualties were cleared for publication Friday. The murdered were identified as Yohai Lifshitz, 18, of Jerusalem; Yehonatan Yitzhak Alder, 16, of Shilo; Yonadav Haim Hirshfeld, 19, of Kochav Hashahar; Neria Cohen, 15, of Jerusalem; Roy Rot, 18, of Elkana; Segev Peniel Avihail, 15, of Neveh Daniel; Avraham David Mozes, 16, of Efrat; and Doron Mahareta, 26, of Ashdod.
Jerusalem police commander Aharon Franco refuted initial reports from the scene claiming there were two gunmen. Franco said that only one attacker opened fire at the seminary and told reporters at the scene that ''an Israeli army officer nearby'' shot the gunman dead.
The 'Galilee Freedom Brigades' – an Israeli-Arab group - has claimed responsibility for the attack. The organization has claimed responsibility for several terror attacks in Israel in the past.
Initial estimates indicate the gunman was a resident of East Jerusalem and likely possessed the blue ID card given to Israeli citizens.
Witnesses said the gunman entered a dining hall where about 80 people were gathered and opened fire.
Paramedics said they treated six additional people for injuries – among them four in serious-to-critical condition.
Yitzhak Dadon, a student, said he was armed with a rifle and waited on the roof of a nearby building. ''He came out of the library spraying automatic fire ... the terrorist came to the entrance and I shot him twice in the head,'' he said.
Evacuating wounded from the scene (Photo: Gil Yohanan)
Jerusalem police spokesman Shmuel Ben Ruby said the slain gunman was wearing a vest that at first appeared to be an explosives vest turned out to be a belt holding extra ammunition.
The seminar is the Mercaz Harav yeshiva in the Kiryat Moshe quarter of Jerusalem, a well-known center of Jewish studies identified with the leadership of the settlement movement. It is home to several hundred
students, most aged 18-30.
There were no attacks by Palestinian terrorists in Jerusalem during 2007, though police and the military claimed to have foiled many attempts. Between 2001 and 2004 Jerusalem was a frequent target of Palestinian attacks, including suicide bombings on buses.
Reuters and AP contributed to this report