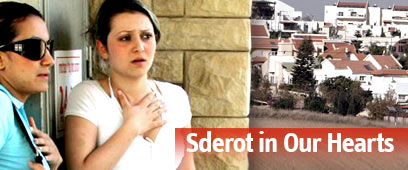 When I traveled to Sderot for the first time I was scared even to blink. The white arrow on the "Highway 323" road sign, featuring the town's name in both Hebrew and English, looked like a dilapidated tombstone to me. Yet the bus followed the arrow, despite all my fears, slowly and naturally taking the turn and separating me from the main road.

"This is where the northern Negev shooting range beings - the role of sitting ducks is played by you and me," was the sign that welcomed us with red handwritten letters. And still, the closer we got to town, and despite my anxiety, I could feel a sense of intimacy that grew stronger with the passing days. Perhaps it is this intimacy that opened my eyes to see so many colors in Sderot beyond red.

When I entered the kindergarten, I found a small coat hanger, followed by desolation. I could hear the distant sound of children playing through the cement walls. As it turned out, Sderot's children play deep within the room; they do not go out to play hide-and-seek or chase.

The first to notice me was Omri, the leader of the boys, a five year old kid with black curls and powerful facial features. Even before I had time to put down my bag, he charged at me and declared: "Just so you know, Omri is not scared of the Color Red alert system!" He made room for me to sit next to him, and continued sharing some tips. "When we play soccer, and suddenly we hear the Color Red alert, those who are true heroes can score a goal while the rest run away," he said with a mischievous smile.

A few minutes later, when a missile landed right next to us, he was shaking in an anxiety attack that lasted for long minutes – I still don't know whether he was more fearful of the Qassam or of the fact that he displayed his vulnerability in my presence.

Around the miniature tables at the kindergarten I became familiar with something that nobody talks about on television. Something that does not come with a user manual, yet serves to sculpt palaces and towers from the daily danger. The one thing that can truly fight Sderot's reality is the imagination – for the children, imagination is the most protected space; perhaps the only one.

In this space, Sderot's children create themselves every day with great skill, love, and joie de vivre. Every morning, any simple corner at kindergarten turns into the king's courtyard; every game in a box turns into a portable lab; every instance of group work turns into a tribal ceremony.

These children certainly know where to turn to when reality disappoints them. Their direct approach to abstract ideas, complex narratives, words, and sounds was unlike anything I have ever encountered.
Reminders of lurking danger
When I was their age and was overcome by the depression of a five-year-old, my mother told me that when pain is turned into art we give it a reason. This sentence resonated with me while I spent my time with children who do not know whether the teddy bear they forgot in the living room when they rushed into the secured room will await them when they return.

I then figured that meeting with writers, the greatest experts on carving wonder and beauty out of the harsh face of reality could provide the children with strength and hope in a constant state of helplessness vis-à-vis a great and incomprehensible threat. I therefore proceeded to organize a meeting between some of Israel's leading authors and Sderot's children.

When the writers entered the classrooms and kindergartens, each one to a class that expected them and read their books, they met a bunch of young heroes sitting in a circle with joy mixed with worry on their faces. Creation, and every child knows this, whether it is made of clay, cloth, or words, is a tree of life. In Sderot I discovered a rare type of young trees growing within a war zone.

The lives of children in Sderot and Gaza-region communities are filled with reminders of approaching danger that is crudely pushed into their perception at an age where death, and most certainly life, cannot be grasped. They are sensitive to any slight movement of the earth and to any rustle in the air or skies. Imagination may serve to protect them from the inside, and ensure that despite the huge shadow that follows them almost from the day they were born, they will not lose the desire to keep on growing.

Marva Merom, a 20-year-old IDF teacher, organized a meeting between more than 20 authors, including Amos Oz, David Grossman, Nira Harel, Meir Shalev and Sderot students in December 2007