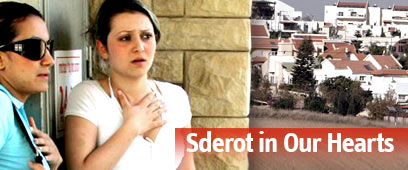 MK Nudelman: Lives at stake
Photo: Gil Yohanan
Many new immigrants to Israel living within Qassam rocket and Grad missile strike range are wholly defenseless and unprotected against such attacks, and their lives are in the hands of fate alone, the Knesset's Committee for Immigration, Absorption, and Diaspora Affairs concluded Wednesday.

Thousands of immigrants from the former USSR still live in flimsy, small houses with thin, crumbling walls hastily constructed to accommodate the waves of new immigrants from the former Soviet Union in the 1990s.

Left Behind

Mayor of rocket-battered town estimates 3,000 of residents –10% to 15% - have deserted city, many others remain only 'on paper'. Aid organizations present higher figures – up to 25% of population

These houses received the not so flattering moniker "1990s transit camps". Many such "temporary" neighborhoods can be found within Qassam rocket Grad missile strike range, not only in Sderot, but also Netivot, Ofakim, Ashdod and Kiryat-Gat.

The Knesset's Immigration and Absorption Committee devoted their session to the light of these immigrants, and a grim if not hopeless picture soon emerged.

Most of these aforementioned neighborhoods do not even have proper bomb shelters, and those that do exist are typically utilized as synagogues or community centers.

Secured rooms cannot be added to these immigrants' houses, being as they are so small and shoddily constructed. Even the Home Front Command has given up and instructed residents of these housing projects to act as if they are in an open area during a Color Red alert.
Government offers only excuses
Even more harrowing is the fact that most residents of these "90s transit camps" are elderly, and cannot possibly evacuate their homes in the requisite 15 seconds in case of emergency. Even younger residents cannot get to a bomb shelter in those precious few seconds, provided that one is available.

What angeredCommittee Chairman Michael Nudelman (Kadima) most, however, were the litany of excuses provided by government representatives refusing to take responsibility for remedying this situation.

"I brought you all here in order to find solutions, not make excuses," Nudleman said, enraged. "We are talking about human lives here, but all you think about is money and the price of putting in new bomb shelters. By sending people out in the open you are risking their lives," he told Home Front Command representatives.



Qasasam rocket damge (Photo: AP)

As for the government representatives present, they did, in fact, provide far more excuses than tangible solutions. Army representative, Lieutenant Colonel Tzachi Zarko stated that he is merely head of the engineering division of the Home Front Command and can only provide logistical solutions rather than addressing monetary concerns.

Finance and Housing Ministry representative were equally evasive. Yale Mevurach, of the Ministry of Finance, stated that the best protection for these residents will be offered by the "Iron Dome" anti –missile system, which will only be operational in several years' time. Shlomit Spiegel, of the Housing Ministry promised to hold further deliberations on this matter.

Constructing safe rooms for these homes will run at a total cost of roughly NIS 100,000 (roughly $28,500). Even aided by a government loan, however, this is far too much for these impoverished residents to afford. Most of their homes are far too small to accommodate such room at any rate.

"I am sick and tired of endless discussions about money. Human lives are at risk," concluded Nudleman, and vowed to do all he could to aid the thousands of immigrants whose lives are—quite literally—in the government's hands.