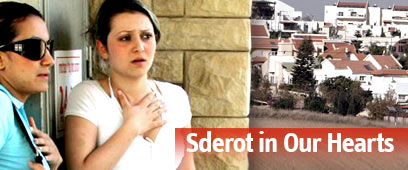 McCain. Determined to pursue peace
Photo: Ze'ev Trachtman
The grim situation in the rocket-battered town of Sderot has left a heavy impression on Republican presidential nominee John McCain, who visited there with Defense Minister Ehud Barak Wednesday afternoon.
McCain noted that there have been 900 rocket attacks on Sderot in the last three months, and that a rocket lands there every two hours in average. This puts intolerable pressure on the children and the population in general, he said, adding that this was "no way to spend the Purim holiday.
Speaking at a press conference after touring the town with Barak, McCain stressed the importance of the peace process in bringing an end to the conflict.
Barak, Lieberman and McCain in Sderot (Photo: Ze'ev Trachtman)
The cycle of action and reaction must stop, and therefore the peace process should not be abandoned, he said.
According to McCain, the US administration and Congress were determined to push forward with the peace process, and he urged Israel and the Palestinians to do the same.
The Republican nominee reiterated his belief that Palestinian President Mahmoud Abbas was capable of advancing the process.
Joint struggle against radical Islam
Senator Joe Lieberman, who also attended the tour, said that Israel and the US were unified by there struggle against radical Islam. Lieberman stated that he was shocked to see the rockets' landing sites across town, comparing Sderot's plight to what the US experienced following September 11.
Senator Lindsey Graham spoke of an encounter he had with a local mother, who told him she loved her country and was not afraid to live here. "This is the spirit of Israeli determination," Graham stated, adding that Israel and the US would continue to stand united against radical Islam.
Graham added that during his visit to the country he had met with people who supported the two-state solution, and said that the US should encourage he moderates on both sides of the conflict.
Barak: Hamas must transform completely
Defense Minister Ehud Barak, who accompanied the three politicians on the tour, said that any normal country must respond to terror acts against it and that therefore Israel would continue its operations against the rocket launchers.
"Once the terror emanating from Gaza ceases… the road will be open for different relations between us and our neighbors," he stated.
Barak rejected the possibility of negotiations with Hamas. Referring to a recent poll indicating that group leader Ismail Haniyeh was growing in strength both in Gaza and the West Bank, he stated: "We read the polls, but I don't believe in them personally. We treat Hamas in accordance with its adherence to the demands of the Quartet and the international community.
"Hamas must transform completely and accept these terms. Before it does so, we will not talk to it. I don't see Hamas taking such steps, whether in relation to the situation in Gaza, or with regards to the release of Gilad Shalit."