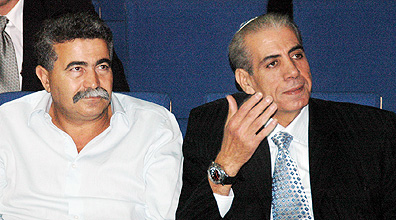 Amir Peretz, Moyal during Holocaust ceremony in Sderot
Photo: Zeev Trachtman
Two Qassam rockets landed in an open area near Sderot Wednesday night shortly after the Holocaust Remembrance Day ceremony began in the western Negev town's sheltered cultural center. No injuries or casualties were reported.
The western Negev was hit with 15 Qassam rockets since the morning hours.
Mayor of Sderot, Eli Moyal, told Ynet that "While the IDF Central and Southern Commands asked us to take precautions, they permitted us to hold the ceremony opposite the Holocaust monument in Sderot.
On Wednesday morning we received many requests from Holocaust survivors who reside in Sderot asking us to move the ceremony to the cultural center. Despite the Central Command's instructions, we decided to respect their requests and move the ceremony," he said.
Moyal added that he thought it was necessary to hold the ceremony despite the security concerns. "I think that our answer to terrorism is not being afraid. Presently, the leadership must make decisions, but in light of this special request, we changed the location and the ceremony took place as planned."
Sderot Municipality official Shalom Halevi said
that "due to the Qassams, we were forced to move the ceremony to a closed structure. The only consolation is that we are holding the ceremony as planned."
As of now, all Independence Day and Remembrance Day for the Fallen ceremonies will take place in the city next week as planned.