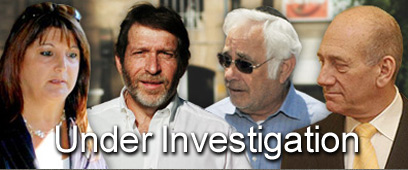 Will Olmert survive latest investigation?
Photo: AFP
The latest investigation against Prime Minister Ehud Olmert could shake up the political system and lead to new elections, a senior Kadima official said Tuesday night.

Olmert Probe

Publication ban on probe against PM to be lifted after details reported overseas, police source says

"This time, there is a chance for a big shake-up in the political system, and we may even have elections in the coming months," the source, who asked to remain anonymous, said. "For the time being it's difficult to say whether Olmert will survive this affair too, despite the strength he has been displaying."

Meanwhile, the Kadima official and other party members are increasingly calling for a review of the conduct of police and the State Prosecutor's Office in the affair and particularly the decision to issue a gag order, which is preventing Olmert from defending himself publicly.
'Abnormal situation'
The Kadima source, who may openly express criticism of the manner in which the probes against Olmert have been managed in order to prompt public debate, said: "If Olmert comes out of this, things can't continue being managed the way they are now. It is impossible to run a country like that. It will be necessary to make significant changes in this area."

"What is being done to the prime minister these days is simply unbelievable," the source added. "If ultimately he emerges out of it unscathed, we politicians must not be silent any longer. The media must not remain silent either. Journalists are talking to me face to face, saying one thing, but are refraining from publishing it."

"We need to look into the conduct of the systems that lead the investigations…since he was elected, the prime minister did not have one moment of rest. This is an abnormal situation, it's unhealthy and unnatural." The senior Kadima source said.