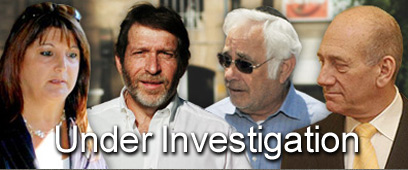 Denies allegations. Olmert
Photo: Gil Yohanan

Morris Talansky
Photo: Guy Asayag
The testimony provided by Ehud Olmert's confidant, attorney Uri Messer, apparently complicated matters for the prime minister, who is suspected of unlawfully receiving funds during his tenure as mayor of Jerusalem and then as industry, trade and labor minister, legal sources familiar with the investigation were quoted by Yedioth Ahronoth as saying Friday.

PM's Press Conference

Prime Minister Ehud Olmert calls impromptu press conference following court decision to revise gag order in police probe against him; categorically denies ever receiving unlawful funds, says if indicted will resign

The attorney's testimony, the legal sources said, also points to alleged acts of fraud carried out by Olmert's former bureau chief, Shula Zaken. Messer has not been given state witness status.

It is suspected that Olmert unlawfully accepted, directly and indirectly, hundreds of thousands of dollars in cash from one or more foreign nationals beginning in 1993, when he first ran for the office of mayor of Jerusalem and then during his tenure as industry, trade and labor minister.

On of the key witnesses in the affair, American real estate financier Moshe Talansky, 75, was asked to testify after his alleged involvement in the transfer of the funds to Olmert came up in the framework of a separate police investigation. Shula Zaken was summoned for questioning a number of times but did not cooperate.

Olmert was questioned by the National Fraud Unit a week ago, for one hour, at his Jerusalem residence and cooperated with the police in full. He denied ever receiving any funds illegally.
Scathing report
The prime minister denied the allegations against him during an impromptu press conference in Jerusalem Thursday night, which was convened following the Tel Aviv Magistrates Court's decision to revise the comprehensive gag order placed on the investigation.

"Citizens of Israel, I look you in the eye and I say to you, in no uncertain terms, I have never taken a bribe, nor have I unlawfully pocketed money," he said, adding that "if Attorney General Menachem Mazuz decides to file an indictment against me I shall resign immediately, even though I am not required to do so by law."

Olmert went on to recount his relationship with Talansky, detailing how the Long Island resident helped raise money for his 1998 campaign for mayor of Jerusalem, and the 1999 and 2000 Likud primaries.

"I have no doubt Messer managed the funds according to the letter of the law and that all funds were put towards elections and covering election deficits," said Olmert.

Messer and Olmert met in the mid-1970s in the law firm of Uzi Atzmon. In 1977 they left Atzmon's firm together with attorney Baruch Adler to set up their own office and also took the secretary, Shula Zaken.

In 1988 Messer headed an association called "United Jerusalem", which ran Olmert's campaign for mayor, and throughout the years has also served as the PM's legal representative in several private real estate deals. Messer is married to Deputy Attorney General Davida Lachman-Messer.

In April 2007 State Comptroller Micha Lindenstrauss issues a scathing report against Olmert relating to the PM's time as industry, trade and labor minister in Ariel Sharon's administration, when he allegedly helped grant favors to a factory represented Messer.

Lindenstrauss wrote in his report that "Olmert did not avoid discussing or dealing with a matter that involved his friend, former partner and current attorney Uri Messer, who represented an enterprise that sought economic benefit from the state through the Investments Center of the Industry and Trade Ministry."