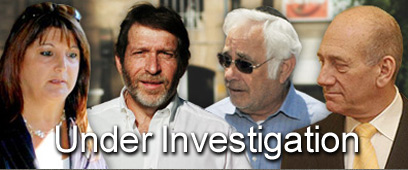 Borovsky. Police showed courage
Photo: Gil Yohanan
The current police investigation against Prime Minister Ehud Olmert "will eventually lead to an indictment," former senior police officer Yaakov Borovsky said Monday.
Major-General (ret.) Borovsky, who headed the anti-corruption department at the State Comptroller's Office, is familiar with details of the probes against Olmert.
Lack of Trust
Bad news for prime minister in battle for public opinion: Yedioth Ahronoth and Dahaf poll reveals 60% of public do not believe he did not take bribe
At a press conference in Haifa to present his candidacy for the city's mayorship, Borovsky noted that the prime minister had already been suspected of taking bribes on several other occasions.
The deposition that will be taken from American businessman Morris Talansky on Tuesday, he said, "Will demonstrate that it's not a matter of technicalities. Olmert is not suspected of unlawfully receiving funds, but of long-standing bribery-related offenses."
He added that "the current inquiry, the fact that a deposition process is set to take place, the documents and the timing indicate that an indictment will indeed be served."
According to the former police official, the latest probe against Olmert stems from other affairs on which the prime minister was investigated by the state comptroller.
"These materials have been gathered by the State Comptroller's Office and handed over to the police and the State Prosecutor's Office… the police is acting with determination, professionalism and courage in this case," he concluded.