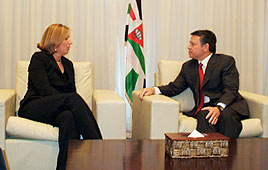 Foreign Minister Tzipi Livni and Jordan's King Abdullah at Sharm el -Sheikh
Photo: Israel Foreign Ministry

King Abdullah (L) and Bush in Sharm el-Sheikh
Photo: AP
Jordan's King Abdullah II has told Israel to set the conditions necessary for peacemaking so that an agreement with the Palestinians can be reached this year.

Abdullah's remarks came in a meeting Sunday with Israeli Foreign Minister Tzipi Livni on the sidelines of the World Economic Forum in the Red Sea resort of Sharm el-Sheikh, his royal palace said.

The king also held separate talks with US President George W. Bush. Abdullah urged Bush to maintain a hands-on approach to peacemaking, while he told Livni that Israel must immediately halt settlement activities in the West Bank and end its crippling economic blockade against the Palestinians.

He said a Palestinian-Israeli peace deal must be reached this year.

About two weeks ago Prime Minister Ehud Olmert dined in Petra, Jordan with Palestinian President Mahmoud Abbas and with King Abdullah. In the meeting, which was defined as "good and warm," the three decided to promote the establishment of a free trade zone in the Jordan Valley, east of Jenin.