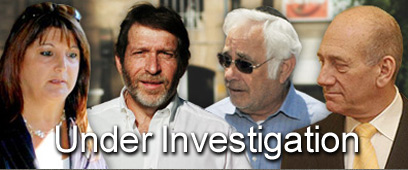 State Prosecutor Moshe Lador
Photo: Gil Yohanan

Attorney Eli Zohar
Photo: Gil Yohanan
Lador: Probe focuses on Olmert's tenure as minister
State prosecutor refutes PM's claims that funds he received from Talansky were used for election campaign purposes. In response to appeal against key witness' pre-trial deposition, he tells Supreme Court testimony aimed at providing evidence as to nature of payments 'which were provided in cash, in the form of dollars-filled envelopes'
The Olmert-Talansky affair reached the Supreme Court on Monday morning following a rare petition filed by Prime Minister Ehud Olmert against the State Prosecutor's Office.

The prime minister's legal counselors and those representing his former bureau chief Shula Zaken, stood before the court in a bid to convince three judges – Deputy Supreme Court President Eliezer Rivlin, Salim Joubran and Edna Arbel – that enforcing a prior District Court decision allowing American businessman Moshe Talansky's pre-trial deposition, would harm their client's chances for a fair trial.

PM Probe

Jerusalem District Court releases transcript of hearing in which State Prosecution demands Morris Talansky be categorized as 'a suspect witness,' Attorney Uri Messer may serve as witness for prosecution. Court rules Talansky's preliminary testimony will be presented on 25th

"No unusual privileges stand for the prime minister, but it is inconceivable that he will be deprived of the same legal privileges every other citizen is entitled to," Attorney Eli Zohar, representing Olmert, told the court.

"I wish this wasn't our opening statement… The State's motion is unprecedented and has no corroborating evidence… granting the motion may substantially alter due legal process practiced in criminal law."

Zohar noted that Talansky had promised to return, "not to mention the fact that his family lives in Israel."

He added that "the moment he testifies, the trial will begin. At the end of the day, we will be under an inappropriate, impossible and unjustified investigation."

On the other side, State Prosecutor Moshe Lador stood before the court, in what had already been described as an unusual legal maneuver, and explained why the preliminary testimony was crucial. Talansky himself, the State said in response to the petition, is a suspect and his promise to return to Israel and testify cannot be counted on.



Court hearing (Photo: Gil Yohanan)
"The investigation into the conduct of the two suspects in question (Olmert and Zaken) pertains to the years in which Olmert was industry, trade and labor minister, his two tenures as mayor of Jerusalem, and his tenure as the health minister prior to that.
"His duties required him to travel extensively and meet with certain elements as a public persona," continued Lador. "The allegations being investigated today go to his long involvement with Mr. Talansky, who is a known fundraiser and is affiliated with many Jewish organizations in the United States.
"Official contacts aside, the State believes that during that time Olmert received cash payments from Talansky, both in Israel – via his bureau chief and in the US, via sporadic encounters between them… The State will offer evidence as to the nature of the payments, including specific amount, which were provided in cash, in the form of dollars-filled envelopes."
The witness
Moshe Morris Talansky, a resident of New York, is a key witness in the new investigation launched against the prime minister. For years he had raised donations and transferred them to Olmert, who claims that the funds were only used to finance election campaigns and to cover deficits. The police suspect that Olmert received a bribe.
Talansky arrived in Israel ahead of Passover in order to spend the holiday with his son. A stay of exit order was issued against him after the investigation was launched, but the order is about to expire in the coming days.
The District Court was convinced that there was good chance that the key witness would not be willing to return to Israel soon and testify, and therefore approved the unusual procedure of a pre-trial deposition even before a decision is made whether or not to file an indictment.
The testimony has been set for next Sunday, and will not be heard in chambers despite a request by the State Prosecutor's Office.
Attorney General Menachem Mazuz said Sunday, in an interview with Channel 2, that it would take a few months before a decision is made on an indictment.