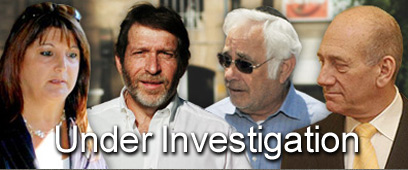 Bad news for Olmert
Photo: AFP
Blow to Olmert: The High Court of Justice rejected Tuesday Prime Minister Ehud Olmert's appeal against the State Prosecutor's request for a pre-trial deposition by Morris Talansky, the key witness in the corruption probe against the PM.

Following the court ruling, Olmert's attorneys turned to the Jerusalem District Court in a bid to postpone Talansky's testimony. However, the State Prosecutor's Office announced that it objects to such delay. The prime minister's lawyers therefore intend to arrive at the State Prosecutor's Office in Jerusalem in order to receive investigation material.

In light of Tuesday's court's decision, Talansky is expected to testify in the near future and his testimony would be used in a future trial should Olmert be indicted.

Olmert Probe

Prime minister to submit to second round of interrogation Friday morning over bribery allegations

The three-judge panel ruled that a previous ruling by the Jerusalem District Court, which permitted Talansky's early deposition, was proper, despite claims by Olmert's attorneys that such testimony would undermine the prime minister's chance to get a fair trial.

Justice Eliezer Rivlin wrote that the court decided that "there was no mistake in the district court's decision, and we found no reason to interfere in it based on the arguments made by the petitioners."

In Sunday's hearing, Olmert's attorney Eli Zohar argued that the request for an early deposition "has no precedent, necessity, or evidence that supports the State Prosecutor's position in respect to concerns that Talansky's testimony could not be acquired later."

However, State Prosecutor Moshe Lador told the court that officials are indeed concerned that Talansky may not be returning from the United States.

"We will depend on his goodwill…there is no telling what will happen later," he said.