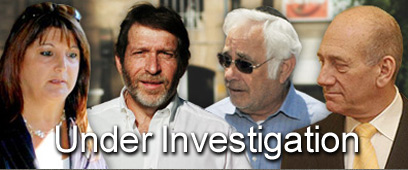 Attorney Uri Messer (archives)
Photo: Motti Kimchi, Haaretz

Olmert. To be questioned Friday
Photo: Ofer Amram
Investigation continues: Attorney Uri Messer, Prime Minister Ehud Olmert's close associate, was questioned by the National Fraud Unit for hours on Thursday in connection with the latest bribery investigation against the PM.

Messer arrived at the unit's Bat Yam offices Thursday morning and left just before 7 pm. Law enforcement officials told Ynet in the past that Messer provided incriminating testimony against Olmert.

Gag Order Lifted

New evidence cleared for publication after gag order fully removed indicates Talansky cash used to fund private trips abroad for PM. Court orders Talansky to remain in Israel till Monday

Messer's lawyer, Attorney Zvi Agmon, told Ynet that "Uri Messer believed that all his actions were legal, and this was the version he gave the police."

Prime Minister Olmert is expected to be questioned by the police for a second time on Friday.



Messer leaves National Fraud Unit offices (Photo: Yariv Katz)

Last week, the State Prosecutor's Office informed the court that Messer may serve as a witness in the suit against Olmert. Should this be the case, Messer would not be prosecuted on any charges.

The gag order placed on the investigation was officially lifted on Wednesday. According to the details revealed, some of the money allegedly transferred to Olmert by American businessman Morris Talansky funded several of his trips abroad – evidence to that effect were acquired through documents confiscated by the police.

Police have confiscated the journals of Olmert's former bureau chief Shula Zaken, in which the dates of meetings between Olmert and Talansky in Israel and the US were recorded.