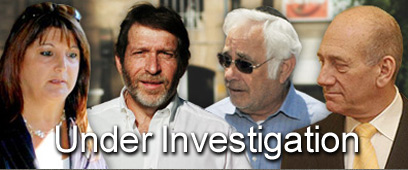 Rabbi Yisrael Ariel
Photo: SOS Israel
"The people Israel must rise as one and purge from within these leaders, and therefore in accordance with Toranic law, anyone with information regarding or who himself is involved in bribing the prime minister - and there are many of those in Jerusalem and throughout the country – it is a mizvah to share this information with the police authorities."
The aforementioned ruling is that of Rabbi Yisrael Ariel, a founding member of the 'Temple Institute' and one of Religious Zionism's most prominent leaders, following the recent corruption allegations against Prime Minister Ehud Olmert.
Olmert's attorney:
PM's lawyer says testimony given by American businessman proves he transferred cash envelopes 'because he believed in Olmert's way'. Adds: Staying in hotel suites and flying first class may be habits that public frowns upon, but they are not illegal
"He who does not inform the police is part of the crime and strengthens the hands of felons," says Rabbi Ariel in an interview with the 'Eretz Israel Shelanu' (Our Land of Israel) newsletter, which is distributed in synagogues on weekends.
"In retrospect," Ariel is asked by the interviewer, "when we see there is about to be a fire sale of the land of Israel, including Jerusalem, can we ask – how has this happened to us?"
Ariel, who served as chief rabbi of the settlement of Yamit prior to its evacuation, answered: "When the people of Israel rise it is to the stars, and the fall is into the abyss… when we ran away from the Temple Mount and forsake it to the hands of the Waqf, then we began to cede parts of Israel. We wept by the Western Wall, but we ignored the holiest of holies and left there instead the abominations.
"We have fallen into the hands of rulers who are corrupt and dangerous. We see Sderot on fire, and the North on fire and he is also guilty of the expulsion from Gush Katif and now he (Olmert) is about to set to torch Tiberius and Safed and Nahariya. The people must decide if it wants leaders like that in its midst."
The justice system, said the rabbi, is working towards rooting out the vermin but Olmert, he warned, can hold out for a long time.
"What Olmert did for the people of Israel as mayor (of Jerusalem) – he will be rewarded for. But today, when he threatens the cohesion of the Israeli public and the country itself and its very morals – don't start
making calculations, and he who does not step forward and go to the police is committing a transgression, for 'if a soul sin, and hear the voice of swearing, and is a witness, whether he hath seen or known of it; if he do not utter it, then he shall bear his iniquity.' (Leviticus 5:1)"
Rabbi Ariel further called for rabbis of all Jewish sects to come together to bring down the prime minister. "A leader of Israel who has committed a crime, it is our duty to stand up and testify against him. We must sit by the prime minister's residence until he resigns. We must bring an end to our internal division and unite."