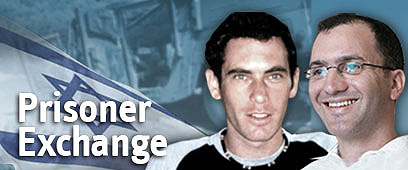 Karnit Goldwasser at funeral
Photo: Hagai Aharon

Goldwasser's mother, Miki
Photo: Channel 1
Thousands accompany Udi Goldwasser on final journey
Sergeant Major Ehud Goldwasser laid to rest in Nahariya Military Cemetery. Miki Goldwasser: I hope we can see this war as victory, we have revealed a strong people; stand tall, lift your heads in national pride. Karnit Goldwasser: You will continue to be my inner voice
Laid to rest: Sergeant Major (res.) Ehud Goldwasser, who was kidnapped near the border with Lebanon over two years ago, was brought to rest at the Nahariya Military Cemetery Thursday morning. Thousands accompanied him on his final journey.

Farewell to the Brave

PM Olmert warmly embraces Karnit Goldwasser, wipes away tears at emotional ceremony for dead soldiers; earlier Wednesday, IDF officers on Lebanon border salute Ehud Goldwasser's, Eldad Regev's caskets as they are taken to IDF base

Miki Goldwasser eulogized her son: "I won't cry, not now. I stand at attention before you with my eyes lifted towards my people with the request: Stand tall, lift your heads in national pride.

"I hope we can see this war as a victory. We have revealed a strong people and wonderful youths. We have revealed bereaved families with undefeatable, powerful spirit, we have revealed kindness. We have revealed commitment, and the meaning of the word friendship," she said, adding a salute to the family of missing navigator Ron Arad for their support.

Goldwasser's widow, Karnit, said in her eulogy that "on July 12, at 9:06, time stopped. A journey began for both of us – you and me – us and the family, the State and you. You and I are going on to the next journey, the journey of my life. You will continue to be my inner voice, an eternally young man who will accompany me throughout my entire life.

"They say time heals all wounds," she continued. "But is this really so? Two years have passed since that debilitating moment that cut through our life's vein; the moment in which the worst scenario became a threatening reality that forced us to dive into a dark and convoluted world. We've experienced two difficult years, filled with ups and downs. I believed and hoped that the moment would come where I would wake up and say it was all just a dream. Will time heal all wounds?"



Barak sits with Karnit and Miki Goldwasser. (Photo: Hagai Aharon)
Defense Minister Ehud Barak, who was seated in the front row near Karnit and Miki Goldwasser, also eulogized Udi. Speaking to the IDF soldiers present he said, "If any of you, God forbid, should be captured, or should anything worse happen in the fight against the terror organization – the State of Israel, its government, and the IDF will do everything just and possible to bring you home"
Turning to the families, the defense minister said, "We are burying in Israeli soil the IDF warrior, Udi, your loved one, our loved one. We are adopting you into our hearts. The journey of pain is over; the never-ending journey of memory and grief begins. Our hearts are heavy but we stand tall before the caskets of our soldiers."
Among those in attendance was Noam Shalit, the father of IDF soldier Gilad Shalit, who was captured by Palestinian terrorists during a cross-border raid on an IDF base near Gaza on June 25, 2006.
Barak promised the Shalit family in his speech that Israel would not hold off efforts to bring Gilad home. He also turned to the Arad family and said, "The case of Ron Arad is not closed. It will remain open, and we will put every effort into solving the mystery. We admit to our failures, despite the efforts we have invested throughout the years."