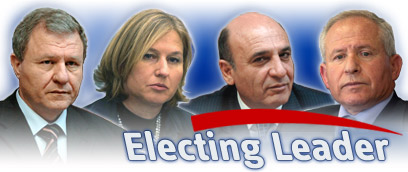 Palestinians were rooting for Livni
Photo: Yaron Brener
Palestinian Authority officials said Wednesday night they were pleased with Tzipi Livni's apparent victory in the Kadima primaries and were looking forward to continuing peace talks with her.
PA officials anxiously followed the Kadima primaries throughout the day, and just like Livni's associated were concerned about the low turnout rate earlier in the day. Palestinian sources were concerned that a Mofaz victory would halt the diplomatic process, while a Livni victory was perceived as recipe for continued talks.
A senior PA official told Ynet: "We'll work with anyone, but it's no secret that working with Livni will be much easier. She knows her stuff so there's no need to start from scratch with her. We hope very much that she'd be able to put together a coalition so that we can continue to negotiate."
The source added that a Mofaz victory would prompt him to move closer to Shas and rightist parties at the expense of talks with the Palestinians.
"Livni realizes that the solution to the current situation is a quick diplomatic agreement with us," he said. "We hope that she'd be able to form a government very quickly."
Meanwhile, many PA residents also closely monitored the primaries, while Palestinian and Arab networks offered coverage of the vote.