Zionist sentiment
Photo: Avi Mualem
The Ramla Museum launched a new exhibition on Tuesday displaying some 50 Hanukkah menorahs, which were designed in Israel between the 1940s and 1970s.
The exhibition's curator, Dr. Yigal Sitri, told Ynet that the display represents the change in the perception of the holiday of Hanukkah in the first days of Zionism.
According to Sitri, in ancient times the lighting of the menorah during the holiday symbolized the idea of renewed Jewish sovereignty under the Hasmonean Kingdom. However, following the Jews' banishment to exile, the message of sovereignty has lost its prominence.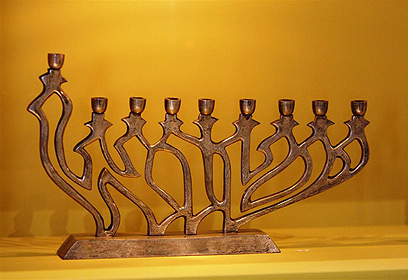 With the appearance of the Zionist movement, and more so after Israel was founded, the principle of Jewish sovereignty has once again become a major theme of Hanukkah.
In line with this change, the decorative elements of the menorahs have also changed to include Jewish-Zionist-national symbols that reflected the national sentiment.
The museum's menorah collection is based on donations by Ramla's residents, private collections and loans from other museums.
The exhibit will be open until December 29, between 9 am- 4 pm. During the holiday the museum will be open until 6 pm.