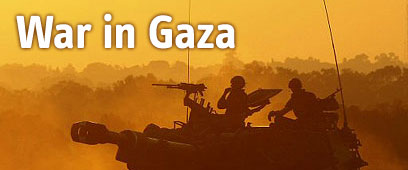 Soldiers in Gaza
Photo: Matan Hakimi, IDF Spokesman's Office
An Israeli delegation is expected to leave for Cairo Thursday morning for talks on a possible ceasefire agreement with Hamas, this as the IDF is preparing to launch the third phase of its offensive in Gaza.

US Pressure

Secretary of state speaks with Olmert and Livni, says US supports truce initiative

Cabinet has already decided that IDF reserve soldiers will be deployed to the Strip in case the joint American-French-Egyptian truce offer fails to meet Israel's demands.

Other reservists will be sent to the northern border and the West Bank.

The next phase of the operation is expected to be longer and even more complex, but it appears the Israel's so-called "Kitchen Cabinet", comprising of Prime Minister Ehud Olmert, Foreign Minister Tzipi Livni and Defense Minister Ehud Barak, appears determined to carry on with the operation, which is aimed at quelling the rocket fire emanating from Gaza.

"We've established only partial deterrence," a senior official in Jerusalem said, 'Hamas is still firing rockets towards the south. All of our achievements in the first 12 days of fighting may be lost (if the operation is stopped)."

Israel objects to at least two of the current truce offer's clauses. Firstly, Israel is against the inclusion of Hamas in any indirect negotiations, and secondly, at this point it is unwilling to discuss the reopening of the Gaza crossings.

However, the proposal does call for the cessation of all terror activity in Gaza, including the rocket attacks on Israel, and for a diplomatic solution to the arms smuggling issue with the help of Egypt and the international community. Israel backs both of these clauses.

In the next few days cabinet is expected to decide whether Israel will expand of the operation in Gaza or seek a ceasefire agreement to end the fighting.