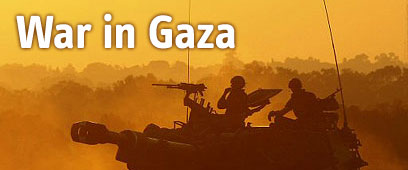 Egyptian FM Ahmed Aboul Gheit
Photo: AFP
Israeli representatives arrived in Cairo Thursday for Egyptian-brokered talks on a ceasefire proposal after the UN Security Council failed to agree on action to end the escalating crisis in Gaza.

Egypt's top diplomats said Wednesday that talks would be held separately with representatives of Israel, the Palestinian Authority and Hamas on the Egyptian-French ceasefire initiative.

Amos Gilad, head of the Defense Ministry's Security-Diplomatic Bureau, and Shalom Turjeman, a top aide to Israeli Prime Minister Ehud Olmert, arrived in Cairo Thursday morning.

Ceasefire Efforts

US secretary of state tells UN Security Council her country insists on 'durable and sustainable' ceasefire between Israel and Hamas, which would not result in return to situation on the ground before Israel launched its offensive. Meeting ends without resolution, members to reconvene Thursday

The official Egyptian news agency MENA said the delegates will discuss "the basic details on how to implement" The initiative.

Egyptian Foreign Minister Ahmed Aboul Gheit said there would be no meeting between Israel and Gaza's Hamas rulers, whose arrival date in Cairo is uncertain.

International efforts to bring the Gaza conflict and broker a ceasefire have gained steam.

Aboul Gheit said Egypt will be asking Israel and Hamas for a temporary ceasefire "That would lead to a consolidated permanent ceasefire."

Then, he said, negotiations would take place with the European Union and the Palestinian Authority, which lost control of Gaza, on how to open the Rafah crossing on the Egyptian-Gaza border.

Israel's government said earlier that it viewed the proposal positively but stopped short of acceptance. A

Hamas official said the Islamic militant group, which rules Gaza, was not ready to either accept or reject the plan, which he claimed favored Israel.

Meanwhile, the UN's most powerful body was divided Wednesday on taking action. The US, British and French ministers, as well as the Arab negotiators, extended their stay in New York and scheduled another closed-door session Thursday morning.

Arabs are insisting on a legally binding resolution demanding an immediate ceasefire and withdrawal of Israeli troops while the US, Britain and France want a weaker statement emphasizing that a "durable ceasefire" requires guarantees on reopening border crossings and

preventing arms smuggling to Hamas.

"There is no unanimity today on either of those text," France's UN Ambassador Jean-Maurice Ripert, the current council president said after closed consultations, "and because we want to go forward in a common approach we have decided to continue our talks and our negotiations."