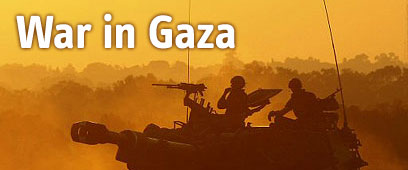 Ashkelon residents take cover during rocket attack this week
Photo: Reuters
Four IDF soldiers were injured Thursday by mortar shells near a kibbutz in the Eshkol Regional Council. To of the soldiers sustained moderate wounds and the other two were lightly injured. All four were evacuated to the Soroka medical center in Beersheba.
Earlier Thursday, a Grad rocket hit a school in Ashkelon. The rocket exploded at the school's gym, which stood empty at the time of the attack. The building sustained damages but no one was injured.
Grad that landed near Ashkelon school (Photo: Gil Yohanan)
Itay, 13, was playing soccer with his friends near the school when the rocket landed. "We were at the yard when we heard the siren. We looked for a place to hide and couldn't find one so we just lay on the ground and heard a strong whistle and en explosion right next to us.
"We saw that the rocket hit right next to the gym. We started running towards the house. We were very scared and one of the kids even started crying. There were numerous police and MDA forces at the place," he added.
More than 15 rockets have been fired at Ashdod, Ashkelon and the Negev communities since midnight, causing no injuries or damage.
Commenting on Thursday's Katyusha fire on northern Israel, Ashkelon Mayor Benny Vaknin said that "as someone who has been dealing with these kinds of incidents for the past two week, I find this very upsetting. I just hope they don't exacerbate the situation. We know how easily you can get dragged into nonstop fighting."