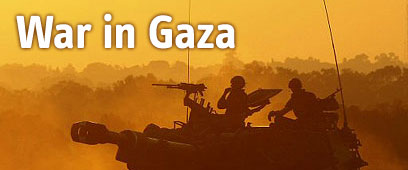 One week after the High Court of Justice approved an appeal by representatives of the foreign press granting them entrance into Gaza, journalists were still waiting for the IDF to permit them to enter the Strip Thursday.

Latest in Gaza

IDF commanders report of rise in number of close-range gunfights with Palestinian terrorists, mainly in residential areas; Air Force strikes weapons caches, smuggling tunnels, Hamas outposts

"I don't believe we'll get in anymore," ABC's Simon McGregor Wood told Ynet. He said they had been waiting at the Erez crossing since Sunday, when they had been called for by the IDF. "But then suddenly they said there were problems with security and only diplomats could get through," he said.

Wood said the journalists were waiting at the border and straining to get a glimpse of the fighting. He said the affair was "unprofessional", adding "these actions are placing Israel at risk of appearing like a military dictatorship."

When Israel prevents journalists from reporting it is running the risk of being portrayed in the same manner as countries such as Burma and Zimbabwe, Wood added.

According to Charles Enderlin, who represents the France2 network, Israel wants the world to receive one-sided reports. He compared the Gaza to Sarajevo, where he claimed Russia prohibited journalists from covering the battles.

The Foreign Press Association stated it would return to court soon to fight the IDF's refusal to grant them entry. The association's attorney, Naomi Vestfrid, said she expect the State to stand behind the order issued by the High Court.

Government spokesman Major Peter Lerner said in response that "the High Court's decision was made prior to the ground incursion in Gaza, and clearly the reality of the situation has changed. Following the change of circumstances we have decided not to allow foreign journalists into Gaza for security reasons."