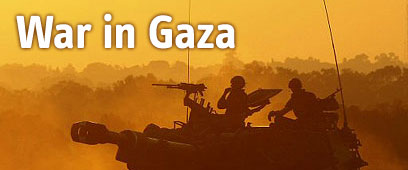 IDF officers discuss next move
Photo: Ron Ben-Yishai
Embedded: For the first time since Operation Cast Lead was launched, an Israeli journalist was allowed to enter the Strip alongside the fighting forces. What does it look like on the frontline?

Gaza City was quiet most of the day, but it was exactly this calm that had Givati Brigade Commander, Colonel Ilan Malka, so concerned: "Everyone should drill the procedure for thwarting attempted abductions. That's what (Hamas) are aiming for now. We also have to review the procedures for thwarting suicide attacks against the troops," he told his officers in one of the security briefings.

The warning is not an empty one. By nightfall, the IDF had scores of abduction alerts, suggesting Hamas is aiming to kidnap soldiers in the area Givati forces were deployed in.

"When we took over the area so aggressively, Hamas pretty much disappeared," Malka said, standing in his impromptu headquarters on the outskirts of Gaza City. "But I'm convinced they are still here, either underground or in hiding. They will venture out to try and abduct soldiers so they can boast abouth their accomplishments."



A hole in the wall (Photo: Ron Ben-Yishai)
Malka is proud of Givati's achievements – the brigade was able to penetrate Hamas defenses within hours and take over a fortified and booby-trapped hub with virtually zero resistance. His primary concern right now is to keep the scene from turning into a snare.
Dodging bullets
We stopped in a backyard of an auto shop. The APC (armored personnel carrier) backed up until it nearly touched the wall – or the hole in the wall – into which we leaped out. The Givati force moved through holes cut into the wall surrounding each house, as they took over the neighborhood, careful not to expose themselves to sniper fire or to the traps laid for them in the buildings' foyers. We're here with several reservists form the brigade's reconnaissance company. They have a large reserve force and the Palestinian neighborhood soon rustles with officers who have come to join the fighting.
"I couldn't stay home when the guys are fighting," said Omri,one of the soldiers, while we were on our way to meet Lieutenant Colonel Ofer Levy, the brigade's deputy commander. "We try not to stand next to windows, so to avoid sniper fire," explained another officer, ducking under a wide window. In the kitchen of a home we enter, we find remnants of meal left abruptly. The homeowners, like more than a 1,000 of the neighborhood's residents, fled following IDF warnings.
Levy said that Hamas operatives were caught so off guard that they left their explosives in plain sight and vanished. The soldiers, he added, keep uncovering tunnels; but before we can visit one, a more urgent matter must be dealt with: The Brigade's commander, who is in a GOC security assessment, orders all fighting, projectile fire and aerial strikes stop at 1 pm, for a three hour "humanitarian pause," at which time local residents would be able to stock up on essential provisions. "We can't go forward but we can fire if we detect danger," I'm told.
Meeting the locals
One of the company commanders runs over and excitingly tells us that the "Caterpillars" – D9 bulldozers used by the IDF – have uncovered a tunnel full of containers; but someone tells him that this tunnel is a familiar find. We head out to inspect the tunnel, which is located in fairly dangerous territory, in order to decide what to do with it. We get a short security briefing, individual "combat numbers" and off we go, moving through the alleys, the soldiers pointing their weapons at the top floors or the holes in the walls, as need be. Hamas is nowhere to be found, but its gumen could reappear at any moment. We arrive at an open area and the troops deploy quickly. We are treading through the Gaza quagmire – and there is a lot of it around us.
We come across a local family in one of the buildings. Grandparents, a few young parents, some children and a few toddlers. Sitting on a rug, their legs are covered in blankets and two soldiers are standing guard nearby. "What about them?" I ask. "They're free to go if they want to, but they don't want to," said Eilon Perry, Givati's operations officer. "They informed us they would be staying in the house and we have no choice but to accept that."
Palestinian family insists on staying (Photo: Ron Ben-Yishai)
The family suddenly notices the cameras, and immediately, the expression on their faces changes. "We have no food," they say in Arabic, as one of the youngsters suggests we interview him in English about their plight. Givati troops are extremely concerned about being portrayed as abusing innocent civilians. Perry points to a stack of canned goods, water bottles and other provisions. "We provided some of that and they cook and eat quite well," he said. The Palestinians seem to understand him and one of them smiles. It's a war – they had to try.
Tunneling down
A sniper lies in wait on one of the building's top floors, peeping through a hole in the wall. Those holes are the scars left across Gaza, the ones that will be there long after the IDF leaves. The commander and his soldiers recite a prayer before heading out to the tunnel again. The number of religious soldiers and settler youth in the brigade and in other IDF combat units is high and increasing, I'm told.
The officers tell me how important the support of the home front is to them. There is a real sense of accomplishment and they are convinced that the ground incursion was an important step. Many of them feared that the military would avoid such a move and believe that it was the only way to secure peace and quiet for southern Israel.
"Besides, we got tired of hearing how Israeli citizens are getting hit while we did nothing about it," said Alon from the Golan Heights, while petting his dog. He is an Oketz serviceman – the IDF's K-9 unit – which is a pivotal part of the force. The troops have two bomb-sniffing dogs with them, sniffing the entryway to each house before we go in. The dogs are equipped with special boots on their paws, to keep them from being hurt by the shredded metal and broken glass covering the ground.
We make our way to the tunnel on foot at first, but the last leg is exposed to the neighborhood north of us. The company commander and I go into the belly of a tank that lets us out at the tunnel's entrance. Nobody is taking any chances. The tunnel is built out of a vertical shaft leading into an underground passageway lined with cement. It is clearly packed with explosives and would be dangerous to move through.
Officers examine Gaza map (Photo: Ron Ben-Yishai)
The tunnel leads into a house some 300 yards away. "My god," said the commander. "It leads up to that house… I almost decided to camp there for a few hours before I saw it was booby-trapped. Had we stayed there we would have been in for a very nasty visit."
A different kind of army
Through the entirety of the "humanitarian pause" in the fighting, the streets were empty. Maybe it was because the stores were closed and maybe because the neighborhood, which was crowded up until a few days ago, is empty. The force is patrolling through it, uncovering weapon and rocket caches; D9 bulldozers follow, ripping out launching pads.
Other operational activities target buildings suspected as rocket manufacturing facilities and weapons' labs. Still, caution is the order of the day and the company is vigilant – they are happy to report having only a few minor casualties since the operation began, and say that things have been quiet in their sector. They pray it stays that way.
This is definitely not the same military we saw in the Second Lebanon War. I wouldn't want to run into any of these warriors in a dark alley.
Just before we turn back, I ask the brigade commander how long he thinks they would be staying in the Strip. "For as long as we have to," he says. "I honestly don't know. We're ready to say for weeks, or months." Will the operation be expanded? "We currently have no such plans," he said, trying to keep a businesslike expression. His officers were already looking at a map of another area in the city.