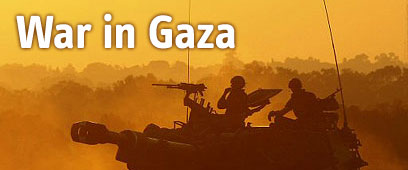 House hit in Zeitoun neighborhood
Photo: AFP
The United Nations on Friday cited witnesses saying Israeli forces evacuated about 110 Palestinians into a house which they then repeatedly shelled 24 hours later, killing about 30 people.
It said that "according to several testimonies, on 4 January Israeli foot soldiers evacuated approximately 110 Palestinians into a single-residence house in Zeitun (half of whom were children) warning them to stay indoors. Twenty-four hours later, Israeli forces shelled the home repeatedly, killing approximately 30."
Opinion
Killing of civilians in Gaza a terrible disaster and should be acknowledged as such
Military officials said in reponse to the accusation that "from initial examinations in the IDF there is no knowledge of any incident in which IDF forces moved people from one building to another.
"Furthermore, the claim that the building was attacked on January 4, in 24-hours after the IDF entered the Gaza Strip is unreasonable since the IDF forces had not yet reached the areas in question on this date.
"An Israeli television network examination of the matter with hospitals in the area showed the hospitals had no knowledge of such an incident."
The UN Office for the Coordination of Humanitarian Affairs (OCHA) called it "one of the gravest incidents since the beginning of operations" by Israeli forces in Gaza on December 27.
"Those who survived and were able walked two kilometers to Salah Ed Din road before being transported to hospital in civilian vehicles. Three children, the youngest of whom was five months old, died upon arrival at the hospital," OCHA said in a report on the situation in the battered Gaza Strip.
The report came as the UN Human Rights Council was due to hold Friday a special session on the conflict in Gaza Strip to examine a motion by Egypt, Pakistan and Cuba seeking condemnation of the Israeli offensive and of "grave" violations.
Ynet contributed to this report