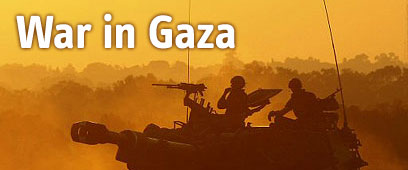 Olmert and Barak
Amos Ben Gershom, GPO

Security Council meeting
Photo: AP
Olmert: UN resolution impractical
Following cabinet meeting on Security Council resolution calling for immediate ceasefire in Gaza, prime minister says Israel to proceed with Operation Cast Lead, as 'rocket attacks prove resolution will not be upheld'. Palestinian President Mahmoud Abbas urges Israel to implement truce
Israel's Operation Cast Lead will proceed, despite the UN Security Council's resolution calling for a ceasefire in Gaza, Prime Minister Ehud Olmert said on Friday.

In an announcement published following the cabinet meeting on the matter, Olmert said, "The rocket attacks this morning on the residents of the south only prove that the UN's resolution is not practical and will not be upheld by the Palestinian murder organizations."

Opinion

Security Council's truce resolution meaningless; more military pressure needed

The prime minister added that "Israel has never allowed any outside source to determine its right to defend its citizens. The IDF will continue to act to defend the citizens of Israel and carry out the missions laid before it in the operation".

Foreign Minister Tzipi Livni said earlier that "Israel has acted, is acting and will continue to act only according to its calculations, in the interest of the security of its citizens and its right to self defense".

Deputy Premier Eli Yishai was more blunt, saying, "The word has turned into Haniyeh and Hamas' lobbyist. It is no matter for concern if this resolution stays on paper. Our interest is all that matters."

The members of the Security Council voted for Resolution 1860 Thursday night. The United States did not veto the resolution and abstained from voting.

The UN resolution "Stresses the urgency of and calls for an immediate, durable, and fully respected ceasefire, leading to the full withdrawal of Israeli forces from Gaza." However, the text only requires Israel to fully withdraw from the Strip after a complete ceasefire goes into effect in the area.

Palestinian President Mahmoud Abbas urged Israel to apply the resolution. "The president feels this resolution is an important step, but what is needed now is its application through an end to the aggression, the Israeli army's retreated from the Gaza Strip and an end to the suffering of the residents," an Abbas spokesperson said.