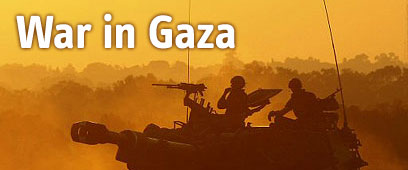 Hamas gunman
Photo: Reuters
Three Grad rockets pounded Ashkelon Saturday, with two of them hitting city houses.
.
One rocket landed in the proximity of a four-storey building. Four people suffered minor injuries and several others suffered shock. The injured were taken to the Barzilai Medical Center in Ashkelon.
Another Grad rocket hit a top-floor apartment which was empty at the time; and the third landed near one of the city's schools. Overall, 27 people suffered shock in all three incidents.
Later Saturday, the Color Red alert sounded twice in Ashdod and blasts were heard throughout the city. The rocket landing sites were not immediately pinpointed; no injuries or damage were reported.
Resolutions
Secretary-General Ban Ki-moon calls Prime Minister Olmert, expresses disappointment of ongoing violence is continuing, sides disregard to UN ceasefire resolution
'Eliminate Hamas now
Many Ashkelon residents rallied at Saturday's landing sites, raging: "(The government) has to eliminate Hamas now otherwise nothing will change. We've had enough," said Shalom, a resident of the neighborhood that was hit.
Others lashed out at the police and Home Front Command officers who arrived at the scene, making it difficult for them ,as well as for the emergency services personnel to perform their duty.
Many refused to leave the landing sites despite the police officers orders not to gather in one place. The Home Front Command recommended avoiding public gatherings in the area as a precaution meant to minimize casualties in case of a rocket attack.
The building which was hit Saturday (Photo: Gil Yohanan)

Saturday afternoon saw two more rockets land in Sha'ar Hanegev Sdot Negev regional councils. No injuries or damage were reported.

Five Qassam rockets were fired from northern Gaza in the mornign hours, landing in Eshkol and Sha'ar Hanegev regional councils and causing no harm.

The IDF Spokesman's Unit reported that dive IDF soldiers sustained minor injuries during overnight operations in the Gaza Strip.

Palestinian sources in Gaza reported that Israel Air Force fighter jets struck a Hamas compound in the southern Gaza Strip town of Khan Younis overnight at well.

Eyewitnesses in the Strip also reported of an IAF strike on a market in the northern Gaza Strip town of Beit Hanoun.

Meanwhile, Brazil is said to join the ceasefire efforts: Brazilian Foreign Minister Celso Amorim is scheduled to arrive in the Middle East next week to meat with Syrian President Bashar Assad in Damascus.

Amorim is also scheduled to meet with Foreign Minister Tzipi Livni and Palestinian President Mahmoud Abbas.

Ilana Curiel contributed to this report