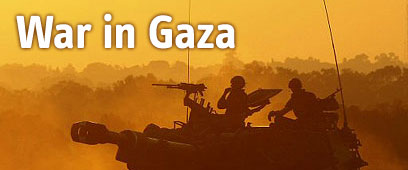 Patience. Livni
Photo: Alex Kolomoysky
Foreign Minister Tzipi Livni reiterated over the weekend that Israel will not tolerate rocket fire emanating form the Gaza Strip. Israel, she told the Washington Post, has no intention of reoccupying the Strip, but the international community would have to be patient and allow it to achieve the objectives set for Operation Cast Lead.

When asked about the pressure placed on Israel by the international community to end the Gaza campaign, Livni said that she "doesn't like the term ceasefire since it looks like an agreement between two legitimate sides.

Support

House of Representatives aligns with US Senate, issues resolution supporting Gaza offensive, Israel's right to self defense

"At the end of the day, this is not a conflict between two states but a fight against terror. . . . We need to fight in Gaza because they (Hamas) have targeted Israel for eight years. We are fighting in order to weaken them and to affect their ability to target Israel in the future.

"This is an ongoing war against terror," she continued. "We don't ask the international community to fight with us. We ask the international community to give us some understanding and time."

The weapons' smuggling into the Strip, she added, "must be stopped by Israel or someone else... We needed to give an answer to their rearmament. We need to know that at the end of this military operation, we will not face the rearmament of Hamas."



'We are fighting terror.' Qassam launched at Israel (Photo: AFP)
Iran is heavily involved in the evolution of Hamas, said Livni: "When (Hamas) started, the missiles were homemade – made in the Gaza Strip. But not anymore. Now they are professional, coming from Iran."
'We need time'
As for the future prospect of the Israeli offensive in Gaza, "It depends. First we need to find out whether they understand that Israel is no longer a state which they can target while hoping for restraint. Israel is going to defend itself.

"I think that some of these goals were achieved... But the idea is not to reoccupy the Gaza Strip. When we left Gaza, Hamas used to write on billboards that terror won and Israel left Gaza because of terror. So today the message for the Palestinians is that we left the Gaza Strip in order to create hopes for peace. But now we are coming back because of terror," she said.

"Hamas' strategy is resistance and survival. As long as they survive, this is a victory (for them). When they know the international community is putting pressure on Israel, they can hold out and take some oxygen, waiting for Israel to be stopped by the international community. It is a pity."

As for the suggestions that an international force be tasked with maintaining the ceasefire, Livni said that she was "not against the participation of the international community, but it doesn't replace our need to fight terrorism. And sometimes, when you have monitoring forces within a place, it makes it more difficult for us to defend ourselves, because the last thing we want is to kill people by mistake.

"Israel is not going to show restraint anymore. . . . it is not a missile against a missile. We are going to attack strongly if they continue."

The goal, she concluded, is to keep the Israeli-Palestinian peace process alive: "We are willing to... Try and find a peace treaty with the moderates as long as at the end of the day, we don't fight a terror state on the other side of the border... A Gaza Strip controlled by Hamas is a burden not only to Israel but to the Palestinians themselves."