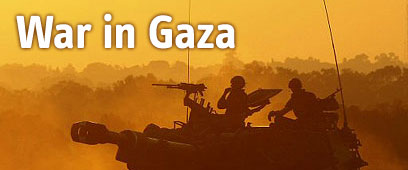 IDF troops in action
Photo: IDF Spokesman's Unit

Hamas hit hard
Photo: Reuters
Is Hamas falling apart? A senior IDF officer estimated Saturday that roughly 300 Hamas men have been killed since the army launched its ground incursion in the Gaza Strip. The military official said IDF troops were able to wipe out entire battalions belonging to the Gaza terror group.

"Hundreds of people were killed in the various combat sectors," the officer said. "Some Hamas companies and battalions were simply wiped out. We also see cases of desertions and unauthorized leaves, while some terror activists are scared to undertake moves that would jeopardize them vis-à-vis IDF troops."

Gaza Operation

Air Force drops leaflets in Gaza, instructing residents to stay away from terrorists

Earlier Saturday, the IDF killed Hamas' rocket chief in the Gaza City area, Amir Mansi. The senior officer said that shortly before his death Mansi clashed with his subordinates, who refused to come out of their hideouts. The rocket chief was left with no choice but to launch mortar shells himself, and was killed after being identified by the army.
'Forces moving forward'
The officer also reported dozens of clashes between IDF troops and Palestinian gunmen in the northern Gaza Strip over the weekend. In one case, an IDF tank was able to avert an attack on a Givati infantry force, he said. Troops in the tank spotted a mortar cell preparing to fire and attacked it before it was able to target IDF soldiers.

"The forces continue to move forward, while reinforcing their hold on the ground" the senior officer said. "They are operating vis-à-vis the Hamas organization, which sealed off whole neighborhoods."

The IDF official said that Hamas fighters had no qualms about exploiting civilians in the war.

"Hamas is attempting every possible tactic against us – in psychological terms as well," he said. "Yet the day it comes out of its trenches and see the destruction and price it paid, it will understand the extent of the blow it suffered."