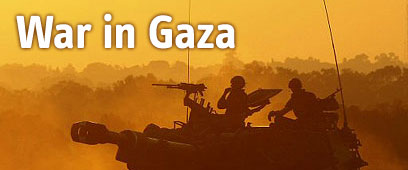 Olmert at Monday's ceremony
Photo: Dudu Azulay

Gaza under fire 'after years of restraint'
Photo: AFP

Egyptian President Hosni Mubarak, thanked for his efforts
Photo: Reuters
"We are in the middle of a battle against the Gaza killers, those that murder Israelis and don't hesitate to expose the residents of Gaza to indescribable, pointless, and unfounded misery. We hope with all our hearts that this violent strife ends swiftly," Prime Minister Ehud Olmert said Monday, speaking at ceremony at the French-Israeli school in Mikveh Israel on Monday.

War in South

As clashes in Gaza decrease, IDF sources say if Israel seeks to strike Hamas harder ground offensive must be expanded, more forces thrown into battle

"Anyone watching global media might, heaven forbid, think for a moment that this military effort in recent weeks broke out for no reason," he added. "No one mentions or remembers the ease in which rockets hit innocents, children and their parents in Israel, and disrupted lives. It's as if all this didn't happen.

"All there is is the warfare put up by the Israeli fighter after decades of restraint, restraint that no other country in the world would have shown."

The prime minister continued to say, "Now they only speak of Israel's brutality. For some reason, they do not speak of the Palestinians' incessant murderousness towards us, as well as towards other Palestinians, or of the use of civilians in Gaza as human shields against the IDF.

"But we know the truth – we did not declare a war on the residents of Gaza, they are not our enemies, we do not wish to harm them. Every civilian, child or adult, that is not involved in terror and was injured as part of the war effort, is a victim that we regret and would like to avoid."

According to Olmert, two conditions must be met for the battle to come to an end – rocket attacks on Israel must cease, and the smuggling of weapons into the Strip must be halted.

"We want the attacks on Israel's residents to stop once and for all, for the residents of Sderot, Ashkelon, Netivot, Nahal Oz, Beersheba and Be'eri to live in peace and quiet, the same quiet that residents of Paris, London, New York and other places enjoy.

"No more, but no less either. This is not an excessive demand. I don't think we have any less of a right than any other country to defend our residents that are not getting this basic right – to live in peace and without fear."

Regarding smugglings Olmert said, "We thank the Egyptian president for the effort Egypt is making…I hope these efforts together yield a result that will allow an end to the battle."
'Bush true friend of Israel'
Olmert pointed the finger at critics in the international community, and commented on the UN Security Council resolution calling for an immediate ceasefire in the Strip, saying, "There is no body in the world that has the moral authority to preach to us and tell us whether we are allowed to fight to defend our citizens. This is for us to decide and no one else."

The prime minister exposed some details of the private talks that led to the United State's abstaining from the Security Council vote on the resolution.

"I thank US President George Bush for allowing me, at the last minute, to bring to his attention the fact that the UN resolution did not address the sensitivities that are important to us, despite the fact that it included some important points that we worked towards with the help of our friends and the leadership of our diplomatic system.

"He said that the US would not support anything that Israel asked it not to support. This is a true friend of the State of Israel and the Jewish people."