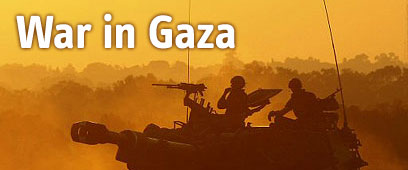 Olmert in Ashkelon
Photo: Moshe Milner, GPO
During a visit to Ashkelon, which has sustained rocket fire from Hamas since the start of Operation Cast Lead, Prime Minister Ehud Olmert hinted that the IDF Gaza offensive will continue in a particularly firm speech delivered in the town.

"If after this whole effort we discover that rockets with increasing ranges are making their way into Gaza that can reach up to 80, and even 100, kilometers, how will we see ourselves? How will our neighbors see us? Therefore, there is no question. There is no hesitation," added Olmert.

"We want to finish, but only if the two conditions that we are demanding are met – an end to thestrengthening of Hamas and to rocket fire. If these two are achieved, we will end our military operation in Gaza. Anything else will be met with the iron fist of the Israeli people, who are no longer willing to sustain Qassam attacks," said Olmert Monday during his Ashkelon visit.



Olmert with government ministers and mayors (Photo: Moshe Milner, GPO)

"Will it take time? Yes, it will take time. We will continue for as much time is necessary in order to remove this threat from our heads," added Olmert, who hinted that patience in the Israeli upper echelons is wearing thin as they prepare to enter the third phase of the military operation in Gaza.

The prime minister added, "I hear from the entire Israeli people: Keep going, keep moving on condition that you reach the achievements for which you went to battle. We have many murder organizations in front of us, and in this war, what can we do? We cannot be soft. It is us or them."
Each one an entire world unto itself
"We have lived now for seven or eight years under the horrible burden of daily threat, of the burning whistle of the Qassam rocket in our consciousness and never ignore it. No country in the world would ever agree to come to terms with such a thing," Olmert emphasized.

Olmert made sure to mention that he tried moving towards peace. "I want to say cautiously, not in an angry way, that during my tenure we tried to create momentum toward peace. We held the most serious of negotiations with the Palestinians, even of the level of Israeli sacrifice and compromise. I hope that one day, these will come to fruition. We did not seek out war, but the circumstance became impossible. Even when it all began, we were very restrained. We didn't say that we want to topple Hamas. I don't know if we can make Hamas disappear, but we didn't say topple."

"We wanted the people here in the south to be able to sleep. They can't work when they are worried about their children and their family members. Is this exaggerated? Is this not what every country would do for its citizens? I heard all kinds of moral preaching. And I ask, after all that this nation has been through, who has the right to say that we don't have right to defend this nation?" Olmert continued.

"I say that if for them 1000 killed is without any meaning, for us every one is a world unto itself. But I say that we will continue striking with all our might, with all our power, until there is quiet," said the prime minister.

Olmert also rejected criticism of any lack of decisiveness within the Cabinet. "I hear those who say, 'This government doesn't know how to make a decision.' I say – nonsense. This government has made difficult decisions, most of which I cannot tell you about. And it is best this way."

Prime Minister Ehud Olmert criticized US Secretary of State Condoleezza Rice and UN Security Council Resolution 1860, which calls for a cessation of violence in Gaza, during a Monday speech in Ashkelon.

"She was left shamed. A resolution that she prepared and arranged, and in the end she did not vote in favor," he said.

AFP contributed to the report