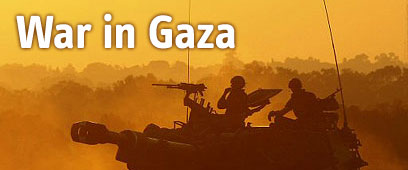 IDF tank enters Gaza
Photo: AFP
A paratroops officer was critically injured Monday night after an explosive device blew up inside a booby-trapped building in northern Gaza. Two other soldiers were lightly-to-moderately wounded in the incident. Forces later found weapons at the place.
The officer was evacuated to the Rabin Medical Center for treatment.
Truce Near?
In televised speech from his Gaza hideout, Haniyeh says Islamist group will back any initiative that will result in 'enemy's withdrawal', but adds Palestinians will 'continue to fight occupying forces until victory achieved with Allah's help'
Four other soldiers were wounded Monday night during a friendly fire incident in Gaza. The condition of one of the soldiers who sustained serious injuries has stabilized in recent hours and is currently defined as moderate.
IDF forces hit over 30 gunmen during the night and exposed two booby-trapped tunnels near Gaza. The Air Force struck some 60 targets, including a hotel housing terrorists and 15 tunnels on the Philadelphi Route.
Israeli troops advanced into Gaza suburbs for the first time early Tuesday, residents said.
Sounds of the battle could be heard clearly before dawn Tuesday around the city of 400,0000 as the Israeli forces, backed by artillery and attack helicopters, moved into neighborhoods east and south of Gaza City. Israeli gunboats shelled the coast from the west.
The Palestinian residents told The Associated Press that Israeli tanks rolled into public areas of the Tel Hawwa neighborhood, pushing back militants. Tens of thousands of Palestinians live in apartment buildings in the neighborhood south of Gaza City.
One of the residents, Khader Mussa, 35, told The Associated Press by telephone that he saw two apartment buildings on fire. He said he was huddling in the basement of his building with 25 other people, including his pregnant wife and his parents. "The gates of hell have opened," he said. "God help us."
Several other buildings were on fire, witnesses said, including a lumberyard. Thick smoke blanketed the area.
Meanwhile, the army has declared another humanitarian pause in the fighting on Tuesday between 9 am and 12 pm, in order to allow Gaza residents to stock up on provisions. Additionally, some 100 trucks carrying humanitarian aid will be allowed into Gaza through the Karni crossing.
News agencies and Ali Waked contributed to the report