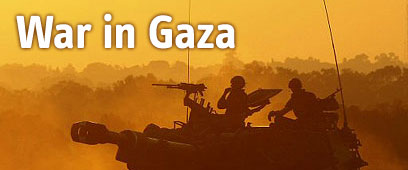 Destruction in Gaza
Photo: AP
B'Tselem: Gaza woman killed by IDF despite waving white flag
Eyewitnesses tell human rights group 50-year-old shot dead as she was leaving relative's home near Khan Younis, say three more civilians killed in similar incident. Army denies report, says targeting gunmen who are using civilians as human shields
Israeli human rights group B'Tselem claimed that a Palestinian woman in Gaza was killed by IDF fire Tuesday despite waving a white flag. The IDF has denied the report.

B'Tselem quoted eyewitnesses as saying that during the early hours of Tuesday morning IDF forces began leveling Palestinian homes in the town of Huza'ah, located east of Khan Younis.

At around 8 am, the witnesses said, a 50-year-old Palestinian woman left the home of a relative while waving a white flag to allow the rest of her family to leave the home safely. According to the eyewitnesses, Ravhiya al-Najar was shot at just as she stepped out of the house and immediately fell to the ground.

She continued to wave the white flag to indicate that there were no armed men in the area, but then one of the bullets struck her head and killed her, they said.

An ambulance driver who arrived at the scene said the woman lay dead at the side of the road, but added that he was forced to backtrack after IDF forces opened fire in his direction.

"The gunfire was meant to kill, not as a warning," he said. "With the help of the Red Cross, we tried to coordinate our arrival at the scene with the IDF, but they granted us permission to evacuate the woman only after several attempts; this was at 8 pm, more than 12 hours after the incident."

Residents of Huza'ah reported of a similar incident that occurred in the afternoon hours, when, according to them, IDF forces opened fire at group of some 30 civilians who were waving white flags. They said three members of the same family were killed in the incident, including an 80-year-old man.

The IDF said in response to the B'Tselem report "we have no knowledge of these incidents. The army is targeting Hamas gunmen who are operating out of populated areas and using civilians as human shields. The civilian population in Gaza is not being targeted."