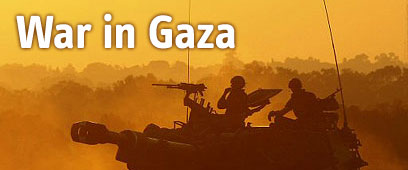 Residents taking shelter
Photo: Avihu Shapira
For the second time in less than a week, Katyusha rockets were fired Wednesday morning from Lebanon towards Israel. Police officials reported that several rockets landed in the Galilee panhandle. Two women suffered shock.

Hizbullah's al-Manar television station reported that the IDF fired artillery into Lebanon. Lebanese officials said the rockets were launched from the village of Hasbaya. The incident was likely carried out in response to the Israeli operation in Gaza.

The siren sounded at around 8:30 am. Kiryat Shmona residents reported of a cloud of an explosion smoke seen near the city and of blasts heard in the area. Rescue and security forces began searching for landing sites of the rockets. Students studying in local schools were ordered to enter bomb shelters.



Youths in bomb shelter in Kiryat Shmona (Photo: Avihu Shapira)
Deputy Metula Mayor Amir Meltzer told Ynet, "There was a siren followed by three or four explosions. Some of them were vague, except for one which was pretty strong. An additional siren was sounded five minutes later.
"I hope this is a passing incident and not a presage for a war which is about to reach us too. It has been relatively quiet here since the end of the Second Lebanon War, and we really don't want to go back to that period."
Another resident living on the northern border said, "I heard two loud explosions and I knew they were Katyushas. I ran to the nearby shelter, and only a minute or two later air raid sirens sounded in the community.
"It was terrifying. It took me two and half years back. We thought the incident last week in Nahariya was a single one, but today it turned otherwise."
UNIFIL Commander Major General Claudio Garziano called on Israel and Lebanon to exercise restrains saying that he is working to preserve the peace on the border between the two countries.
UNIFIL Spokesperson Yasmina Bouziane said that Graziano is in contact with IDF commanders as well as with the Lebanese military following the rocket firings into Israel Wednesday morning.
Kiryat Shmona opens operations room
Shimon Abitbul, deputy manager of the local Magen David Adom emergency station, told Ynet, "We treated two women aged 55 and 33, residents of Kiryat Shmona, who went into shock following the sirens.
"All our stations in the Upper Galilee have been reinforced following an instruction issued by MDA CEO Eli Bin, both in terms of ambulances and in terms of manpower and the contact with the army. The forces are prepared for any case of injuries."
Kiryat Shmona Mayor Nissim Malka decided to open the city's operations room immediately.
"I call on the residents to be patient and practice the strength they are known for," he said. "It appears our neighbors from the north are not prepared to let us be. We are acting according to the army's instructions, and in the next few hours I advise everyone to remain in the shelters or near them until the situation is clarified.
"We are here for all the residents through the municipality's different units and departments in a bid to deal with any problems."
Several border incidents
Last Thursday, two Katyusha rockets were fired at the city of Nahariya and an Upper Galilee community. Two people were lightly injured in a home for the aged and were evacuated to the Nahariya hospital. Five other residents suffered for shock.

Unusual incident have also taken place in recent days on the Syrian and Jordanian border.

On Sunday afternoon, a man on the Syrian side of the border with Israel opened fire at a group of Israeli civilians and soldiers who were making repairs on the Israeli side of the border fence. IDF forces did not fire back at the shooter, who fled the scene. There were no casualties, but vehicles were damaged.

On Tuesday morning, a Jordanian soldier opened fire at a Border Guard patrol near the Arava border crossing, north of Eilat. No injuries were reported in the shooting. Jordanian officials denied that the soldier fired the shots.

Sharon Roffe-Ofir, Roee Nahmias, Ahiya Raved, Daniel Edelson and Anat Shalev contributed to this report