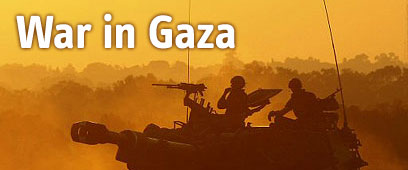 Gilad Shalit
Photo: Noam Rotem
Hundreds of teenagers rallied in the Tel Aviv Museum Plaza on Wednesday, demanding that any ceasefire agreement ending the Israeli offensive in Gaza must secure the release of kidnapped IDF soldier Gilad Shalit.

Guy Elyasif, a childhood friend of Shalit's, told Ynet that "we are fighting in the south and Gilad is probably hearing the explosions and thinking the moment (of his release) is near. Once that stops, he is sure to think we've given up on him, that the government has decided not to bring him home.

"Saying that getting Gilad Shalit back is not one of the operational objectives is easy, but we will not allow the government to not bring him home."



The rally (Photo: Ofer Amram)

Getting Shalit back, he added, "has to be a clear-cut goal. We will not let the government agree on a ceasefire with Hamas otherwise. Olmert, Barak, Livni – we will not let you do this. There can be no agreement without Gilad."

Noam Shalit, Gilad's father, thanked those in attendance: "We thank these youths, who are two-three years away from enlisting in the army, for choosing not to stand idly by and not to wait for the leaders' endless promises to come true.

"They are presenting a clear stand – that today's youth will not accept an entire nation and its leaders' failing to release Gilad."

Shalit ended his speech by offering the operation's bereaved families his condolences and wishing the injured a speedy recovery.

The rally was also attended by several public figures, such as Ephraim Sneh and Uzi Dayan, who said in was inconceivable for Operation Cast Lead to end before Shalit's release is secured.

Justice Minister Daniel Friedmann was quoted Tuesday as saying Shalit's release must be a part of any ceasefire agreement between Israel and Hamas; but Israel has made no clear statement as to whether his release would be a prerequisite for any future ceasefire.

Meanwhile, senior military sources dismissed the latest rumors suggesting a "pivotal breakthrough" has been made in Shalit's case.

Gilad Shalit has been in Hamas captivity for 934 days