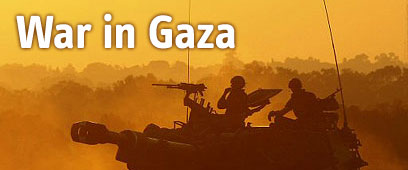 Haim Yelin
Photo: Ze'ev Trachtman
One of the mortar shells fired from northern Gaza at the Eshkol Regional Council Tuesday contained white phosphorus.
The council's security chief, Nikki Levy, said that "the potential danger of using such a rocket is enormous. It is far more dangerous than other Qassam rockets and mortal shells. This is an escalation in the type of explosives the Palestinians use on civilians."
Rocket landing site in Negev community (Photo: Ze'ev Trachtman)
Haim Yelin, head of the Eshkol Regional Council, added: "Everyone criticized Israel for the weapons it's been using, but we must realize that the other side is using illegal weapons."
Yelin noted that almost all of the rockets and mortar shells fired at Israel on Tuesday landed in Eshkol.
"You have to remember that we launched the Gaza offensive in order to bring peace and quiet to the area's communities," he added. "The fact that the number of rockets fired at the bigger cities is decreasing is no reason to abandon our communities for an additional eight years."
Air raid siren sounded throughout Wednesday in Beersheba, Ashdod, Yavne, Ashkelon, Sderot and other western Negev and Gaza vicinity communities.
The Eshkol Regional Council was the site of three rocket landings – all of which hit open areas, causing no harm.