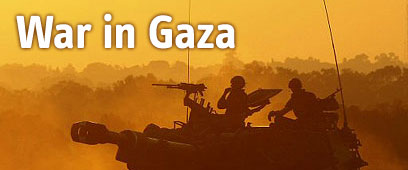 Sheetrit, blames Hamas
Photo: Ofer Amram

Olmert with UN chief
Photo: Moshe Milner, GPO

Difficult images from Gaza
Photo: AFP
Israeli ministers will be heading out next week for a 'PR attack' in foreign media. Ynet has learned that six ministers are scheduled to travel to countries that have a distorted public opinion on Israel's operation in Gaza in an attempt to change the situation.

The ministers will meet with the leaders of foreign countries and appear in local media.

The campaign was initiated by Prime Minister Ehud Olmert, who is trying to win over international support for Israel's military operation in the Strip.

UN Chief

In meeting with Livni, UN chief calls for immediate ceasefire in accordance with Resolution 1860 and reopening of crossings, adds Israel's residents have a right to live without fear. Israeli FM: Hamas responsible for loss of life in Gaza

The ministers to be sent on the mission are Interior Minister Meir Sheetrit, Transportation Minister Shaul Mofaz, Social Affairs Minister Isaac Herzog, Education Minister Yuli Tamir, Justice Minister Daniel Friedmann and Internal Security Minister Avi Dichter.

Sheetrit, who will be deployed to Belgium, told Ynet, "I don't understand the world's preaching against the Israeli operation. No one should complain to us about the destruction in Gaza, but should talk to Hamas. What do they expect? That houses will be built in a time of war?"

The interior minister continued to say, "We aren't the ones who initiated this, and that is what I'm going to tell my hosts in Belgium. Europe and NATO did it in Kosovo, the Americans did it in Fallujah, and we are fighting to defend our citizens' safety.

"Golda Meir once said that we can forgive the Arabs for killing our sons, but we cannot forgive them for making us kill their children."
Campaign to go ahead even if truce called
Tamir will be heading to Iceland and Ireland, after the Irish foreign minister published five announcements condemning Israel over the humanitarian situation in Gaza.

The minister did condemn the rocket attacks on Israel, but did not place direct responsibility on Hamas and did not explicitly call for the group to halt its fire. Ireland's prime minister also condemned Israel's operation.

On Thursday, 41 Irish parliament members published an announcement calling for an immediate ceasefire, and saying that Israel's response in Gaza was disproportional.

Irish media is also a harsh critic of Israel, and many organizations in the country have been working to pressure the government in the matter.

The ministers will take off right after the weekly cabinet meeting on Sunday. By then, the cabinet may have reached a decision, following the limited cabinet meeting to take place Thursday evening.

If the cabinet decides to call a ceasefire, the ministers will be asked to explain the Palestinian civilian casualties in the shadow of the images of destruction that are likely to be exposed to the world as the battles cease.

If it is decided to further expand the Gaza offensive, the ministers will have to explain to their hosts why Israel is doing so.