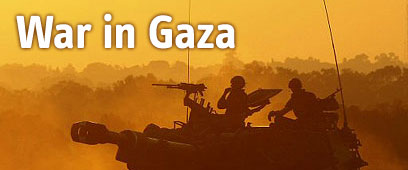 Smoke billowing from Gaza City
Photo: AP

Building in which Said Siam was killed
Photo: AP
IDF strikes 40 targets in Gaza; sources say '23 bodies found under rubble'
Mosque used to store weapons, six terror cells among targets hit by aircraft; Palestinians say bodies found beneath rubble of building in Gaza City neighborhood that was heavily bombarded Thursday; rocket fire on Negev continues
Israeli aircraft struck some 40 targets throughout the Gaza Strip overnight Friday, including a mosque in which weapons were stored. Six terror cells and three more arms caches were also attacked. The Navy took part in the strikes.

Medical sources in Gaza reported that 23 bodies have been found under the rubble of a building in Gaza City's Tel Hawwa neighborhood. The area was heavily bombarded by IDF forces on Thursday. It was further reported that a Palestinian boy was killed and 10 people were injured during an IDF attack at the al-Shabura refugee camp in Rafah.

Protest

In meeting with Livni, UN chief calls for immediate ceasefire in accordance with Resolution 1860 and reopening of crossings, adds Israel's residents have a right to live without fear. Israeli FM: Hamas responsible for loss of life in Gaza

Meanwhile, Palestinians in north Gaza fired seven rockets and a mortar shell toward Israel's southern region Friday morning; no injuries were reported, but slight damage was caused. One of the rockets landed near Ofakim at around 1:30 pm.

According to the sources in Gaza, 1,133 Palestinian – a third of them civilians – have been killed since the Israeli offensive in Gaza began, including 335 children and about a 100 women; 5,130 Palestinians have been inured in Gaza so far.

The IDF announced Friday that it will halt its activities in Gaza between 10 am and 2 pm, during which 130 trucks carrying food and medical supplies aid will be allowed to enter the Strip through the Kerem Shalom and Karni crossings.
'Israel reserves the right to respond'
On Thursday Hamas' interior minister, Said Siam, considered one of the most senior members of the Palestinian group's leadership, was killed in an Israeli air strike on his brother's home in Gaza City, the Israel Defense Forces said.
Destroyed building in Gaza City (Photo: AFP)

The defense establishment said Siam's brother Ayad and the head of Hamas' security organization in Gaza, Salah Abu Sharah, were also killed in the strike. Hamas members confirmed that Siam and his brother were killed, but claimed that the third casualty was Siam's son.

Meanwhile, the diplomatic efforts to reach a ceasefire are continuing. Major-General (Res.) Amos Gilad, the head of the Defense Ministry's Security-Diplomatic Bureau, will leave for Egypt on Friday morning in order to discuss the Egyptian initiative for a ceasefire between Israel and Hamas.

Prime Minister Ehud Olmert said Thursday, "We are continuing to inquire on the details of a diplomatic arrangement with the Egyptians, and by no means with Hamas."

Foreign Minister Livni left for Washington on Thursday night in order to sum up an outlined agreement with the United States intended to prevent the smuggling of arms into the Gaza Strip. Prime Minister Olmert approved the trip.

The Foreign Ministry was assigned to the task of working with international powers to secure the outlined agreement, which Israel hopes will prevent the arming of Hamas.

Livni made it clear before leaving for Washington that even after the agreement is signed, Israel reserves the right to respond with fire to Hamas' attempts to rearm itself.

Ali Waked contributed to the report