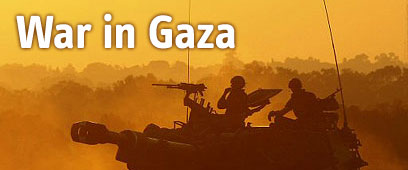 ACRI 'mourns' Gaza fatalities: Children are everyone's soft spot
Association for Civil Rights takes out full-page, obituary-style ad in weekend newspaper 'grieving' Palestinian children killed in Gaza offensive. Ad meant to 'convey basic message of operation's impact on civilians,' says group's spokeswoman
The Association for Civil Rights in Israel, in an unusual move sure to be deemed controversial, took out a full-page, obituary-style ad in Friday's edition of the Haaretz daily in protest of the Israeli offensive in Gaza.
The page was divided into numerous obituaries lamenting the death of Palestinian children of various ages, and featuring the word "Stop" in bright red in its middle.
"The point was to convey the basic, universal and humanitarian message of the (operation's) impact on the civilian population. Children are everyone's soft spot and therefore we chose to focus on them," ACRI Spokeswoman Nirit Moskovitz told Ynet, adding that the fact that Hamas does not hesitate to target children and civilians, does not elude her group.
"We wanted to provoke the kind of reaction people have when they see a child's obituary," she said. "More than 300 Palestinian kids were killed so far… We feel that Israeli society needs to be reminded that there are people, actual people and innocent children, who are getting hurt."
Both the media and the public, she added, seem to be indifferent to the plight of the innocent in the Gaza Strip: "There is little desire to address the price the civilian population in Gaza is paying. The plight of the south's residents is awful, but there is a sense of rationalization when in comes to the fate of Gaza's people."
The ACRI is not trying to interfere with political decisions and aims only to protest: "The reports speak of 1,000 fatalities and 5,000 casualties, only half of whom are Hamas gunmen. We have to protest such a gross violation of human rights… Israel should not be fighting the way that it is."
Israel, she noted, loathes Hamas precisely because it does not differentiate between military forces and civilian population," so when we hear things like 'they deserve what they're getting because they voted for Hamas', we see the kind of sad logic that the most heinous terror organizations use.
"The children are not to blame. We are forced to remind the Israeli public that the rules of war exist in order to keep us all from turning into animals."