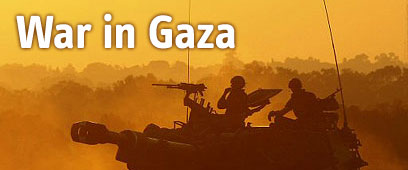 Mashaal: Resistance goes on
Photo: AFP

Assad: Sever diplomatic ties
Photo: Reuters
Hamas's top political chief rejected Israel's conditions for a Gaza cease-fire and demanded an immediate opening of the territory's borders, taking a tough line Friday as he asked Arab countries to back him by cutting off any ties with Israel.

Ahmadinejad Rants

Ahmadinejad says Gaza op 'has been great lesson for all, showing absolute defeat of Zionist regime'

Khaled Mashaal spoke at a summit of Arab leaders in the Qatari capital, including Iranian president Mahmoud Ahmadinejad.

During the summit, Qatar and Mauritania announced that they would sever diplomatic ties with Israel. Qatar's prime minister, Sheik Hamad bin Jassem Al Thani, said the Israeli trade mission in the country will have about a week to leave.

Mashaal sought Arab support in a strongly worded address to the summit, insisting Hamas cannot stop fighting until border crossings into the Gaza Strip are opened.

"We will not accept Israel's conditions for a cease-fire," Mashaal told the summit. He said Hamas demands that "the aggression stop," Israeli troops withdraw and crossings into Gaza be opened immediately.

Mashaal insisted that Israel was to blame for the offensive in Gaza, and said that "the enemy turned to the murder of civilians and the destruction after it failed before the resistance."



Mashaal (center) with Arab leaders in Doha (Photo: AFP)

He promised residents of the Strip that "the Israeli aggression" would collapse before their "will and determination."

Mashaal said Hamas refused to renew a 6-month-old truce with Israel that ran out in December because the period of relative calm had not led to an end to the blockade of Gaza.

"Did we do wrong, by rejecting a truce that let the blockade continue?" Mashaal said. "Don't the people of Gaza deserve to live free? ... They want to live free without blockade or occupation, just like all the Palestinian people do."

He said Israel wanted to impose their policies in the Strip and that the "resistance organizations" were the only barrier between these policies and the residents.

"Please listen to the voice of the resistance," he said. "Don't think that Hamas wants an open war. We are defending our people." Mashaal asked Arab countries to boycott Israel and cut off any ties with it.
'Shut down Israeli embassies'
Syrian President Bashar Assad backed Mashaal's call for a boycott. He said Arab countries should end all "direct and indirect" ties with the Jewish state in protest at its offensive in Gaza.

"I consider the Arab initiative with Israel "dead", he said, claiming that all countries supporting the peace process should support the resistance. He warned future generations from making concessions for Israel and said, "Real peace is not achieved by cowards but those who display determination and strength."

"If we continue with our concessions Israel will continue with its brutality,"he said, demanding that all Israeli embassies in Arab countries be shut down and all diplomatic ties severed.

Pro-US Egypt and Saudi Arabia boycotted the gathering, fearing it would become a platform for Hamas to boost a hard-line position and would undermine Egypt's attempts to mediate a cease-fire between the Palestinian militant movement and Israel.

Ali Waked contributed to this report