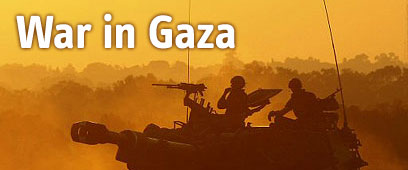 Rocket fire continues Sunday
Photo: Reuters

IDF soldiers in Gaza
Photo: Reuters
Hamas announced an immediate ceasefire by its fighters and allied groups in the Gaza Strip on Sunday, senior Hamas official Ayman Taha said, adding that the Islamists gave Israel a week to pull out its troops.

"Hamas and the factions announce a ceasefire in Gaza starting immediately and give Israel a week to withdraw," Ayman Taha, a Hamas official in Cairo for talks with Egypt on a truce deal. The Islamic Jihad joined the ceasefire announcement.

Sunday's Rocket Fire

Despite ceasefire declared by Israel, Sunday sees Palestinian gunmen fire at least 13 rockets, three mortar shells from Gaza. Rockets land in Sderot, Kiryat Gat, Ashkelon, Ashdod and western Negev kibbutzim. Woman lightly injured by shrapnel, another suffers shock, building lightly damaged. One rocket hits henhouse, killing dozens of chickens

Hamas also demanded that Israel open all of the Gaza Strip's border crossings to allow in food and other goods to meet the "basic needs for our people".

The declaration was made shortly after another Hamas source told Ynet that the pause is aimed at allowing the organization's delegation in Cairo to receive clarifications on the completion of the withdrawal, the opening of the crossing and the removal of the blockade imposed on Gaza.

Earlier, despite belligerent declarations from Hamas leaders on Saturday and Sunday that rocket fire on Israeli towns would continue, a Hamas source told Ynet that Palestinian organizations have decided to end rocket fire against Israel gradually.

In a meeting of the various organizations, it was decided to "reduce the fire until its cessation – in upcoming days, possibly even in upcoming hours."

According to the source, "Rocket fire is intended to send the message that we are the ones who decide when there is a ceasefire, not some unilateral decision in Israel." Nonetheless, he said, "the Palestinian organizations have no intention of drawing IDF fire that could harm Palestinian civilian populations."

Currently, a Hamas delegation has traveled to Cairo and is expected to hold talks with Egyptian intelligence sources on issues of an Egyptian initiative that includes the withdrawal of Israeli forces, monitoring along the Philadelphi route and the activation of various crosses in and out of Gaza.
'The Zionist enemy fled'
Mushir al-Masri, a Hamas-affiliated parliament member, said "Israel failed in the war, did not achieve even one of its objectives and fled from the Strip. The age of quick, decisive wars, such as Israelis like, has disappeared."

"The resistance pushed back the attack and the enemy is forced to deal with continued rocket fire, continued threat from Hamas and no change regarding the issue of (kidnapped soldier Gilad) Shalit," he added.

Likewise, the spokesman for the Palestinian Resistance Committees (PRC) Abu Mujehad told Ynet that "the Zionist enemy fled. The rockets didn't stop. The organizations are alive and kicking and keep firing and operating and (Shalit) is still in our hands."

According to Mujehad, the additional victims discovered Sunday morning under the rubble in Gaza only demonstrates Palestinian suffering, not Israeli success.

"If Israelis enjoy seeing hundreds of building destroyed and 1,200 civilians killed, then they can say that they won. But if we look at this from a military perspective, any small child understands that they didn't win, they were defeated. Our rocket arsenal exists, smuggling will not stop, the shooting capabilities of the organizations continue unabated," he said.

Mujehad claimed that only a few dozens combatants had been killed in the war, adding, "We, in contrast to the enemy, don't hide casualties because shahids deserve a special funeral worthy of their holiness… Israelis, on the other hand, has turned hiding casualties into an art."

According to data from the Palestinian organizations, fewer than 100 militants were killed during the weeks of Operation Cast Lead. The Islamic Jihad's al-Quds Brigades claimed only 20 operatives were killed in exchanges of fire or aerial strikes. The PRC claims fewer than 10 casualties. Hamas' military wing said only some 40 militants were killed, some of them still missing.