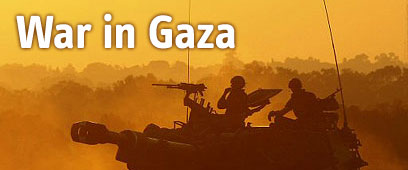 Sarkozy (L) and Mubarak in Sharm
Photo: AP

'Humanitarian tragedy.' Brown in Sharm
Photo: AP
Mubarak: Lift Israeli siege on Gaza
European, Arab leaders meeting in Sharm el-Sheikh press for end to Gaza arms smuggling, opening of territory to humanitarian aid. 'In the next phase Israel must withdraw its forces, reopen crossings and life blockade,' Egyptian president says. Sarkozy: Time to expedite efforts toward establishment of Palestinian state
European and Arab leaders racing to consolidate a ceasefire between Israel and Hamas pressed Sunday for an end to weapons smuggling into Gaza and for the opening of the territory to desperately needed humanitarian aid.

IDF Intelligence

Intelligence chief tell cabinet Palestinian organization will try to change the picture following Gaza op, possibly using unconventional tactics; Hamas has not disappeared, security leaders emphasize

A summit meeting in the Egyptian resort of Sharm el-Sheikh concluded that the next steps will include a humanitarian summit organized by Egypt in the coming days and the search for a way to open Gaza's sealed border crossings to allow in humanitarian aid.

Britain's leader announced at the gathering that his country was tripling its humanitarian aid to Gaza, pledging an additional 20 million pounds, or about $29 million, to rebuild damaged homes and help those injured in the violence.

A unilateral Israeli ceasefire began before dawn Sunday. Hamas also announced it would halt fighting from its side for one week while demanding that Israeli troops leave the territory.

The UN chief, Ban Ki-moon, stressed the need for Hamas to stop rocket fire and for Israel to exercise restraint to sustain the halt.

The crucial question left unresolved was how to stop weapons smuggling across the Egyptian border to Gaza's Hamas rulers.

France, Britain, Germany and the United States have all offered help in stopping the flow of weapons, but Egyptian President Hosni Mubarak has firmly rejected any deployment of international monitoring forces on its side of the Gaza border.

"We have pledged to help Israel and Egypt with all the technical, military, naval and diplomatic ways to help end the smuggling of weapons into Gaza," French President Nicolas Sarkozy said at a news conference after the summit.

Preventing Hamas from rearming is a key demand of Israel in any lasting deal. It launched its offensive on Dec. 27 with the argument that Hamas had used a six-month truce earlier in the year to restock its arsenal. That truce unraveled as Hamas intensified its rocket fire into southern Israel. Hamas, for its part, complained that Israel maintained a blockade of Gaza despite that period of calm.

Egypt, maintaining that it can police its own border with Gaza, has rejected the idea of any international monitoring force in its territory.

On Sunday, Mubarak again stressed that "Egypt will not accept any foreign observers on its land," while adding that the summit displayed "international support for Egypt's plan to establish long-term calm in Gaza.

"We must secure the ceasefire, and in the next phase make certain that Israeli forces withdraw from Gaza, the crossings are reopened and the siege on Gaza is lifted," he said.
Brown calls for 'immediate mobilization of aid'
The Arab League chief, who also attended the summit, said the way to stop smuggling through the tunnels under the border was by opening Gaza's crossing points with Israel to allow in commercial goods. Besides weapons, Gazans also use the tunnels to smuggle desperately needed food and fuel.

"Smuggling is a problem because of the suffocation in Gaza," said Arab League Secretary-General Amr Moussa. "What else could they do but smuggle the items they need because of the siege? And so, the smuggling is connected to the opening of the crossings and ending the siege."

While, acknowledging the difficult task ahead, Sarkozy said now was the time to speed efforts toward the ultimate goal of Mideast peacemaking: the creation of a Palestinian state.

"In our minds, this is the beginning of our journey," he said. "We should continue and we should accelerate our efforts in order to achieve a settlement based on the creation of two states, a Palestinian state living side-by-side with an Israeli state that has the right to its security."

Gaza Strip militants conditioned any longer-term truce on a complete Israeli troop withdrawal from the territory. And in a sign of how fragile the immediate situation was, Palestinian militants continued to hit southern Israel with rockets Sunday.

The three weeks of fighting killed more than 1,250 Palestinians, more than half of them civilians. Thirteen Israelis died during the offensive, including four killed by rocket fire.

Sarkozy also stressed the need for Israel to quickly pull its forces out of Gaza.

"Israel should state immediately and clearly that if rocket fire will stop, the Israeli army will leave Gaza. There is no other solution to achieve peace," Sarkozy said.

Laying out some of the specifics, British Prime Minister Gordon Brown said that in addition to increasing humanitarian aid money, his country would help transport the injured to hospitals, rebuild Gaza's shattered buildings and clear away unexploded bombs.

Brown appealed for other nations to join Britain.

"Today, humanitarian tragedy must not be met just by sympathy but by the immediate mobilization of aid," he said.

With its new pledge, total British aid to Gaza since the conflict began stands at nearly 27 million pounds, or about $40 million.

The UN secretary-general said he would send a humanitarian needs assessment team to Gaza this week that would compile a report within 10 days so an urgent appeal can be made.