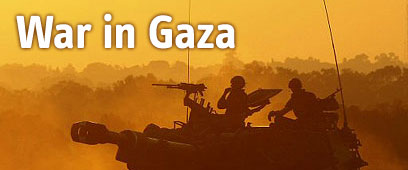 Soldiers going home
Photo: Reuters
Cleared for publication: The IDF began pulling some of its troops out of the Gaza Strip Sunday, following Israel's decision on a unilateral ceasefire. The troops redeployed to areas near the security fence.
Among many soldiers in the field, many of whom have been pulled out in the past several hours, Israel's declared truce appears to constitute a missed opportunity to crush Hamas' will to fire at Israeli civilians. Some reservists reported, though, that Hamas appeared weak.
"We could have done a lot more. There's a feeling the operation ended too early," one soldier told Ynet. He and his colleagues are staying alert in an attempt to block ceasefire violations – rocket fire – by Hamas or other Palestinian organizations.
These soldiers maintain that an operation such as Cast Lead should leave Hamas "devoid of desire" to continue aiming rockets at Israel. "We can continue without a problem, in urban Palestinian areas, in Gaza City or anywhere else. All they need to do is tell us to," soldiers said.
Soldiers leaving Gaza (Photo: AP)

Moreover, many wonder why troop presence has been reduced without any sort of formal resolution. "I'm sure any reservist would be willing to give another month if he knew that, at the end, (kidnapped soldier) Gilad Shalit would be returned home," said one reservist.

Many reservists also said that they had expected a much fiercer enemy. "It's been pretty quiet. The regular troops did a good job here and, honestly, there were few incidents (of gun battle) during the week that we were there," said one reservist.

"The army used a lot of fire power to cover our backs," reservists said, noting the vast damage in urban Gaza. "Unfortunately, the ones paying the price are the Palestinian civilians, many of whom have been left without homes or infrastructure."

But regular soldiers framed the damage and the aerial backup in a different light. "The amount of booby-traps and roadside explosives in these areas was too enormous to risk operating (without such backup)," they said.

"Innocent-looking neighborhoods turned into Hamas neighborhoods. Every other house was booby-trapped or had a smuggling tunnel," a soldier from the Armored Corps explained.