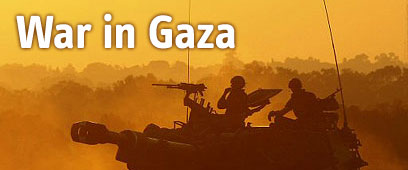 Hamas directs traffic, but some Gazans query war
As Gazans start evaluating damage caused in 22-day conflict, rebuilding their lives, Hamas continues to demonstrate presence in Strip, sending out traffic police, security men. Some Gazans criticize Hamas, saying, 'rockets must end. How does Hamas explain thousands of casualties?'
Hamas traffic police reappeared in the Gaza Strip on Sunday as the Islamists displayed their control of the streets after Israel halted its 22-day assault.

But some Palestinians had hard questions for their elected leaders, whose decision to abandon a six-month truce and step up rocket fire on Israel gave the Israelis a pretext to unleash a withering onslaught that killed 1,300 people and wounded 5,300.

"What rockets? Our rockets are like pencils compared to those fired by Israel," said one woman in the devastated town of Beit Lahiya. Like many Gazans, she did not want to give her name when making unflattering remarks about the enclave's rulers.



Palestinian women in Jabaliya refugee camp (Photo: AP)

Palestinian rocket fire killed three Israeli civilians during the campaign. The Israelis lost 10 soldiers.

Hamas, which won a parliamentary election in 2006 and drove its Fatah rivals from Gaza in 2007, followed Israel in declaring a ceasefire on Sunday. The Islamist movement also then set about reminding anyone who doubted it that it still ruled Gaza.

Hence the traffic police and security men sent out as a visible symbol of the Hamas administration's authority. Israeli bombs destroyed the compounds of all Hamas security forces and most government buildings, but Hamas officials and residents said the security forces had never stopped working.

Hamas portrayed Israel's unilateral ceasefire as a triumph. "Hamas congratulates our people on this victory achieved by their resistance," a mosque loudspeaker blared overnight. Some took the message at face value.

"We have been living under Zionist terrorism for over 20 days," said Khalil al-Rass, a vegetable seller. "We will send them back to their underground shelters," he said as bystanders clapped and cheered. "We die but we will never kneel except before God."

But some Gazans criticised Hamas for continuing to fire rockets after the Israeli ceasefire announcement.

"We know their power was not destroyed, but at least give people a chance to breathe," said a taxi driver who again would not give his name out of fear. "Was what happened not enough?"

"They should stop now," he said. "They should think how to reach a real ceasefire, open the border crossings and bring money to help people rebuild and give them some compensation."



Destruction in the northern Gaza Strip (Photo: AP)

Aware of such sentiments among Gaza's 1.5 million people, bruised and dazed by all the blood and destruction, Hamas did indeed announce a conditional halt to rocket attacks.

One Hamas official said the movement had retained its military capacity, but its leaders had taken civilians losses into account and wanted to achieve political gains for Gazans.

Ali Hassan, a father of five whose family had to flee battle zones, said Hamas should reconsider its pinprick rocket attacks. "Once we have a missile that can reach the heart of Tel Aviv and blow up a building, maybe they can resume fire," he said.

Lama, a secretary who would not give her full name, said: "Rockets must end. What did we gain from them?" she asked, noting that the truce could have been renewed in December. "Now after thousands of casualties, how does Hamas explain that?"

A teacher, who would agree to be named only as Bassem and who is a Fatah supporter, said Hamas showed no regard for Gaza's people by firing rockets but he doubted the backlash against them would last, describing the "emotional" appeal of a movement led in Gaza by the territory's prime minister Ismail Haniyeh.

"Our people are too emotional," Bassem said. "Haniyeh just needs to speak at Friday prayers to patch up the damage, and you'll be surprised to see people clapping and cheering him."