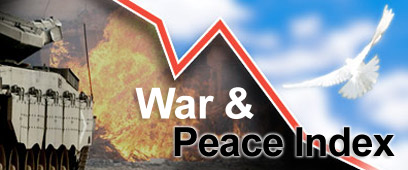 Prime Minister Benjamin Netanyahu
Photo: AP
The majority of the Israeli public supports Prime Minister Benjamin Netanyahu's foreign policy and settlement expansion, the War and Peace Index revealed Sunday.

According to the data, some 66% of the Jewish public believes that Israel should continue building in Jerusalem since its sovereignty over the city is indisputable, and therefore it has the right to build anywhere in the capital.

Policy

Prime minister says agreement with Palestinians must include recognition of Israel as Jewish state. Barak: Fatah congress rhetoric 'unacceptable'

Twenty-seven percent opposed the continuation of building in Jerusalem and the rest said they have no clear stand on the matter.

The majority of those polled also said they support Netanyahu's foreign policy, with 53% saying they approved of the government's conduct. Some 33%, who also affiliated themselves with the Labor and Meretz parties, said they oppose the prime minister's foreign policy.

The survey suggests that the Jewish public's support of foreign policy derives from the perception the US President Barack Obama is pro-Palestinian, a notion 46% of the participants subscribe to; 31% believe that Obama is neutral and 7% said he is pro-Israeli.

Nevertheless, when asked if the US president is likely to preserve Israel's interests in the long run, only 26% said they believed he would do so, compared with 68% who believe he would not.
Gaza op aftermath
The War and Peace Index also revisited Operation Cast Lead, probing what the public thinks about IDF soldiers' testimonies which suggested undue force was used against the Palestinians.

According to the data, 43% of the public believes the soldiers' accounts, while 47% do not. About 76% said there is no need for any further inquiry into the Israeli offensive in Gaza, while 17% said the investigations must continue.

Additional numbers revealed that 79% of the Israeli public thinks Operation Cast Lead was successful. However, the researches found that the Israeli-Jewish public refuses to discuss the offensive's moral price tag.

The War and Peace Index is conducted by the Tami Steinmetz Center for Peace Research. Published monthly since 1994, it is run by Prof. Ephraim Yaar and Prof. Tamar Hermann and is compiled of a monthly telephone survey of 503 Israeli citizens representing the various sectors in Israeli society.

The Survey, which has a maximum sampling error of 4.5%, is sponsored by the Evans Program in Mediation and Conflict Resolution at the Tel Aviv University.