Hassan Nasrallah
Photo: Reuters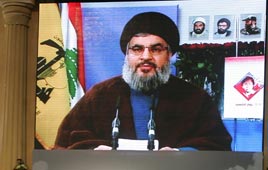 Nasrallah televised speech
Photo: Reuters
Hezbollah Secretary-General Sheikh Hassan Nasrallah slammed US President Barack Obama on Wednesday, saying, "When he was elected, many relied on him and believed it would mark a major turnaround in favor of the Arab world, but this notion quickly dissipated."
Threat
In response to Ashkenazi's warning of Israeli retaliation in face of attack, Hezbollah says, 'Enemy knows any attack will bring about its total defeat that will result in end of its entity'
Speaking in Beirut on "Shahid Day," the Shiite group's leader claimed that Obama's commitment to Israel's security was evident in his speech aired this week during a memorial ceremony in Tel Aviv marking the 14th anniversary of Israeli prime minister Yitzhak Rabin's assassination.
He said the world hoped that the new leadership in the US would "try and change the savage American policy, but the result was a complete American commitment to Israel's interests and security."
"From a military perspective, we saw the joint American-Israeli drills. Then the Israelis declared that the purpose of these exercises was to deal with rocket attacks from Gaza, Lebanon and Iran," said the Shiite group's leader.
"For the first time since the inception of the Zionist entity, the US is prepared to actively participate in any conflict (Israel) will force on Lebanon, Gaza, Syria or Iran," he said, "We did not see this during the Bush Administration."
Nasrallah continued to say that Obama said vowed to "force the enemy's government to halt construction in the (West Bank) settlements to resume (peace negotiations). I said at the time that this was no more than an American ploy to earn the Arabs' support.
"Later we saw how the US withdrew from (the demand to halt settlement construction) and called on the Palestinians to return to the negotiation table with no preconditions," he said.
"Obama's deception has been exposed sooner than expected. The Israelis are continuing to train, arm themselves and spy and are using every minor incident in Lebanon as a pretext to issue more threats of war," said Nasrallah."