Interior decor
Photo: Courtesy of Aish HaTorah
The Second Temple will be open to visitors next week. Albeit in a different location, and a smaller size, not allowing much room for people to enter. Still, it is certainly the next best thing at the moment.

This Hanukkah the Aish HaTorah Jewish studies center in Jerusalem will inaugurate the largest model of the Second Temple to be built to date. The model, which was built on a scale of 1:60, and weighs 1.2 tons, is made of the original materials, namely, real gold, marble and stone, and was placed on the third floor of the center's building, facing the Western Wall.

The model was placed facing the Temple Mount in hopes of giving the visitors a feeling as close as possible to that felt by visitors back in the days when the structure, described as one of the most beautiful of its period, was standing. The place where the Jewish heart once stood, and, with its destruction, became a site of constant longing.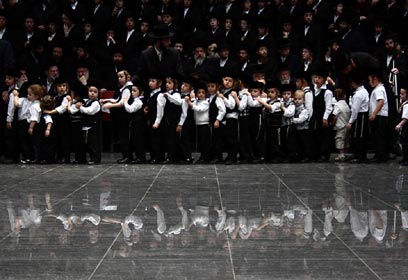 "We knew that our building was in the most beautiful place, and that you can see the entire Temple Mount from it," Aish HaTorah director Ephraim Shore said, "It was clear to us that such a place should be used to illustrate the experience of being there.

"Clearly, this is an experience that cannot be completely reenacted today, but we saw fit to create something close. When you see the model on the backdrop of the Temple Mount, I think you get the feeling that people got in the Temple."

One of the main dilemmas Aish HaTorah faced in building the model was of the character of their temple – Should the aesthetic aspect be emphasized, illustrating the Temple as a work of art, or should the educational aspect be highlighted?

"In the end we decided to go with the educational aspect," Shore said, "Since this is already a creative structure, we felt there was no need to add to it. The next problem was how to demonstrate the experience of the interior.

"There are a number of models of the Temple around the world, but you usually only see it from the outside. You see the hall, but not the Holy of Holies and the menorah. It is true that the building itself is very impressive, but what matters is what happened inside.

"We were really worried about how to go about it because we wanted the final model to be the closest thing to the real structure, and therefore, we finally also ruled out ideas like making one of the walls of the hall out of glass, because we didn't want to compromise its authenticity.

"The solution that we went with in the end was a hydraulic elevator that lifts the walls of the hall and reveals the internal activity in it. This makes the experience more than just an exterior visit."