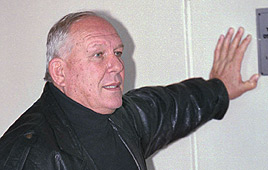 Klein. Faces danger in Colombia
Photo: Jeremy Feldman
Israeli mercenary won't be extradited to Colombia
European Human Rights Court rules against Russian decision to extradite ex-IDF senior officer Yair Klein to Colombia, where he is wanted for training militant squads employed by drug cartels. Klein's attorney says client likely to return to Israel soon
The Strasburg-based European Court of Human Rights (ECHR) ruled against a Russian decision to extradite Israeli mercenary Yair Klein to Colombia on Thursday.

The decision was made after Klein filed a petition against the Russian Supreme Court's decision to extradite him and nearly two years after the ECHR urged Moscow to delay the procedure.

Klein's attorney Mordechai Tzivin told Ynet that the decision goes against a Colombian verdict which was "unlawfully reached in Klein's absence." He further noted that the Klein affair was not currently on the Russian agenda and estimated that the local supreme court would likely to adhere to the European ruling.

The attorney also noted that his client is slated to be released and to return to Israel soon.

Klein, a retired IDF lieutenant-colonel, was convicted in absentia of training squads used by drug cartels to wage war on the Colombian state during the 1980s and 1990s. He was sentenced to 10 years in prison and was added to the Interpol's wanted list in 2007. Klein was arrested in August 2007 in the Moscow airport by the Russian organized crime agency and has been in custody since.
Life threat in Colombia
In his petition, 67-year-old Klein claimed his innocence and said his life would be in danger should he be extradited to Colombia.
The German DPA news agency reported that Klein based this claim by pointing out that the then-vice president of Colombia, Humberto De la Calle Lombana, greeted news of his arrest by saying that "it should be ensured that this gentleman rots in jail for his participation in the training of armed groups."
DPA further reported that the European court accepted Klein's argument, saying that De la Calle Lombana's statement "could be regarded as an indication that the applicant ran a serious risk of being ill-treated while in detention in Colombia."
The judges also based their ruling on UN and US reports suggesting that "the overall human rights situation in Colombia was far from perfect."
The ECHR is a branch of the Council of Europe, a body largely dealing with human rights, and is not related to the European Union.
Should Russia decide to ignore the ruling, it would likely be called to explain its actions by the other 46 members of the Council of Europe. However, no specific sanctions are normally foreseen.