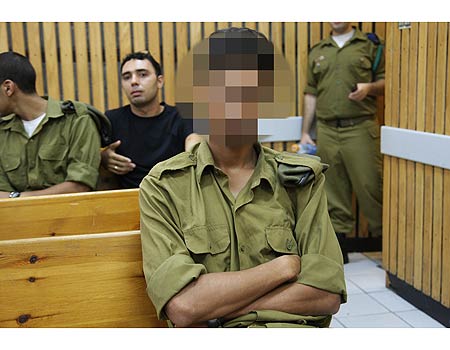 One of the suspects in court
Photo: Avisag Shaar Yeshuv
The Military Police on Thursday arrested another soldier on suspicion of involvement in the looting of Gaza-bound Turkish ships.

The soldier served in a command post at the same base as the officer arrested Tuesday on similar suspicions.

Army investigators believe that the two soldiers stole laptop computers from a Turkish ship docked in Israel and later sold them with the help of another soldier who was also detained.

Misconduct

Investigation revealed by Ynet against officer, soldiers suspected of stealing, selling goods from Turkish ship raided on its way to Gaza evokes anger, embarrassment among army officials, politicians. 'If this is true, there must be a serious problem in the army in terms of values,' senior officer says

Military prosecutors are expected to ask a military court to extend the remand of the suspected officer by a few days. The officer is currently the key suspect in the case, and sources familiar with the investigation claimed there was a fundamental difference between the charges faced by him and those faced by the other suspects.

"On top of the fact that he is an officer in the IDF, he is suspected of theft, while the other soldiers only bought and sold the equipment and therefore had a limited role," a senior officer said.

Military Police investigators suspect the soldiers sold the stolen computers to three other soldiers, and believe these and other computers were removed from the Turkish ship by the officer, after being intercepted by the Navy on May 31.

"Beyond the criminal aspect of the case, there are soldiers who probably don't understand where they are, and what the uniform they don represents," a senior officer familiar with the details of the investigation said.