Fire near Beit Oren
Photo: Noam Moscowitz

More than 40 dead
Photo: Yoav Zitun
Kibbutz Beit Oren was destroyed almost entirely in the fire, which claimed the lives of over 40 people and consumed more than 30 square kilometers of land, according to the Jewish National Fund.

A number of residents in Beit Oren and Nir Etzion refused to leave their homes, to which they had returned despite the approaching flames. Police say that in a number of extreme cases, officers were forced to evacuate people by force.

Police also began to evacuate homes in Isfiya as the fire blazing through northern Israel began to near the homes on the outskirts of the Druze town.

Beit Oren, one of Israel's most pastoral towns lay in ruins Friday morning, with trash cans melting on the streets and shards of glass from broken windows scattered throughout. The valley near Beit Oren, once a gorgeous green, had turned to black.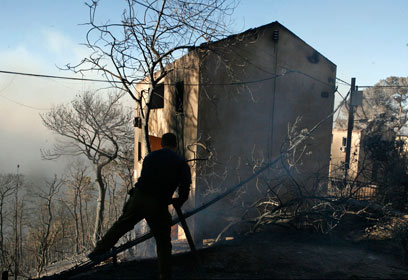 All roads in the area remain closed, and large police and army forces travel through the area, putting out an occasional rekindling in various places.
In addition, a new fire broke out in three different areas of Kiryat Bialik, spreading towards the Akko industrial zone. The flames began at a compost plant as well as two other areas near the market, and quickly spread due to hot, dry, and windy weather.
Kiryat Bialik Mayor Eli Dukorski told Ynet that firefighters' response had been slower than usual, undoubtedly due to their occupation with the larger blaze. He added that an investigation was needed as to how the fire broke out simultaneously in three places.
'Scared to think of future'
Some 12,000 people have been evacuated from their homes in the north so far, and most of them are staying with family, according to the head of emergency services at the Interior Ministry, Sasi Katzir.
"There are thousands more evacuating now as a safety measure, and we will see by developments whether they can return to their homes or whether we find another place for them," he said, vowing that no one would be left homeless.
Dozens of families are staying at the home of an agency called 'Yad Ezer' in Haifa. Among them was Fares Shatiye, who arrived from Isfiya together with his wife and three small children.
"If we had stayed another hour, I'm not sure I'd be speaking to you right now," he said. "We ran after collecting a bit of the kids' clothes and some food, but I have no idea what's happening with our home, with all our furniture. I have some savings, but we can't live on them for long. It really scares me to think of the future."
Netanyahu praises hero
Meanwhile Prime Minister Benjamin Netanyahu visited four people who were severely injured in the blaze at Rambam Hospital. He spoke to Raviv Hofman, a Prison Service guard who told him, "We arrived in an 18-year old car that did not like the climb. Once we realized the extent of the fire we started to evacuate people."
Netanyahu told Hofman to "hang in there", and upon meeting his wife said, "The forecast is that he will pull through, but I wanted to tell you that we are astonished by his bravery."
The prime minister added, "He went straight into the fire and we know the price you are paying for his heroism… He is a true hero and a very brave man."
Ahiya Raved, Hagai Einav, and Yael Branovsky contributed to this report