2001 attack on Twin Towers
Photo: AFP

9/11: Men jumping off buildings to escape infern
Photo: AP

Hezbollah chief Hassan Nasrallah
Photo: AFP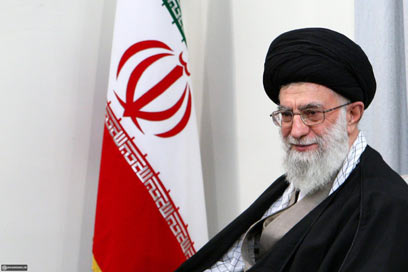 Khamenei Iran's spiritual leader
In July of 2004, members of the National Commission established to look into the September 11 attacks were facing immense pressure. The target date for submitting the report the whole of America was waiting for had passed, and commission members were given a 60-day extension that was also about to expire. However, eight days before the final submission date, some commission members received word of new information; a real intelligence time bomb.

Commission members didn't know what to do. On one hand, a whole new lead emerged; yet on the other hand, nobody could process this huge amount of information within days. At the end of the day, the commission chose a solution that turned out to be the worst of all: It crammed some of the information into three pages (pp. 240-242 in the report) written hectically, ignored most of the information, and in fact left the big question open.

Related stories:

As it turned out, the prominent building housing the National Security Agency's headquarters in Fort Meade includes a particularly interesting room. In this room, the NSA accumulated tens of thousands of conversation records pertaining to one subject: The ties between Iran's intelligence service and al-Qaeda from the 1990s to the eve of the 9/11 attacks. The piles of information included 75 intelligence documents characterized as critical to understanding the relationship between Tehran and al-Qaeda.

At the end of the day, the commission noted in its report that the issue deserves further scrutiny by the US Administration. However, such examination was not undertaken and may have never materialized. Indeed, this entire affair may have remained buried in the three abovementioned pages, had it not been for one brave woman: Ellen Saracini.

Saracini is not an intelligence analyst or counter-terrorism expert. She is the widow of pilot victor Saracini, the captain of the Boeing jet that took off from Boston aboard United flight 175, which was crashed into the southern tower. However, Ellen was unwilling to see the death of her husband and father of her two daughters end with yet another line in the commission's report; she decided to seek justice on her own.

Saracini approached attorney Thomas Mellon, who specializes in lawsuits against large corporations. Mellon's team members launched an investigation. They met potential witnesses, interviewed intelligence officials, CIA agents, Iranian defectors, a French judge and others. They even reached Israel in their search (in the interest of full disclosure, the writer of this article was also summoned to testify in the trial, as one of nine expert witnesses.)

The investigation kept progressing, diving deep into the dark corners of the global world of intelligence and terrorism. Ten years later, Mellon and his team are convinced that they possess the "smoking gun" that will tie Iran to the September 11 attacks.

The legal team drafted a huge lawsuit, recently submitted to the Manhattan District Court. What hides inside it is far from being routine. The lawsuit is premised on a dramatic charge: The responsibility for the 9/11 attacks lies not only with al-Qaeda, but also with Iran and Hezbollah, based on what attorneys say is clear, unequivocal evidence.

The case has far-reaching implications, which explain why the US government is not eager to look into the conversation records in the abovementioned NSA room. A ruling that Iran is linked to the attacks would pose a tough test to Administration officials: On the one hand, they would not be able to ignore such verdict. Yet on the other hand, what exactly will they do with it? Will they attack Iran, just as they invaded Afghanistan and Iraq?
The Sudan connection
The huge amount of evidence included in the lawsuit comes together to form a fascinating charge: Starting in the 1990s, Iran and Hezbollah helped Osama Bin Laden and his deputy Ayman al-Zawahiri create a new terror organization from scratch, to be headed by Afghanistan veterans and members of Egyptian Islamic Jihad. Iran trained group members, equipped them with advanced technological means, enabled them to move freely and provided them with plenty of terror-related expertise and experience accumulated by Hezbollah in its operations against Israel and the United States.

Later, according to the lawsuit, Iran assisted in the preparations ahead of September 11. Should Mellon and his team prove all of the above, everything we thought we knew about the terror offensive will change forever.

According to the lawsuit, the relationship between Iran and al-Qaeda was initiated in the early 1990s in Sudan. At the time, Sudan turned into the world's second state, after Iran, to be ruled by radical Islam.

According to the testimonies of senior CIA officials, Iran's President Rafsanjani, Intelligence Minister Ali Fallahian and Revolutionary Guards Chief Mohsen Rezai visited Sudan. They were accompanied by a figure well-known to Israel's intelligence services: Imad Mugniyah, the head of Hezbollah's military wing (Mugniyah was assassinated in February of 2008 in an operation attributed to Israel.) All participants in the meeting pledged to assist the Sudanese regime and join forces with it in supporting other jihadist movements in the Middle East.

When it turned out that Sudan was emerging as a new terrorism theater, Israel's intelligence agencies started to deploy human and electronic resources there. The file on developments in Sudan until 1996 is known in Israel as "Blue Smurfs" and contains a treasure trove of information about the seed that later became Global Jihad.

When Saracini's attorneys sought the Israeli government's assistance in receiving the Blue Smurfs file, they were told the information was acquired in cooperation with a foreign party, and that this information can only be shared with this party's approval. Such authorization has not been given to this day.

What we are allowed to reveal here is that Israel's intelligence officials identified at the time tight relations between radical Islamic terrorists in Egypt and Department 15 in Iran's Intelligence Ministry. Notably, Department 15 is tasked with exporting the Islamic revolution to other Arab states.

Israel was also able to identify a prominent terror leader in Sudan. His name was Ayman al-Zawahiri, an Egyptian jihadist who served a prison term for his role in President Anwar Sadat's assassination. Year later, Zawahiri's name became known worldwide; he turned into al-Qaeda's chief strategist, Bin Laden's deputy and successor, and a man with a $25 million price tag on his head, courtesy of the FBI.

In April of 1991, Zawahiri secretly visited Iran and sought Iranian assistance for a Cairo revolution. The parties agreed on Iranian support for Zawahiri's organization in the form of money and training. The terror leader sent many of his men to train in Iranian camps, mostly under the guidance of Lebanese Hezbollah members led by Imad Mugniyah.

During his visit to Iran, al-Zawahiri was convinced of the immense power of a suicide attack as an effective modus operandi. Years later he realized that if a suicide bomber is effective, a terrorist who crashes a Boeing aircraft into a tower would be much more effective.
Discovering Osama
Following further efforts, it turned out that an even bigger group of Muslim radicals was operating in Sudan alongside Zawahiri and his men. Some of them were veterans of the guerilla war initiated by America in Afghanistan against the Russian invasion in the 1980s.

Yet who was the leader of these Afghanistan veterans? How did he operate? Where was he getting his funding? Israel's intelligence effort continued, and the name of a Saudi contractor who was expelled from his country started to surface, with his real estate work being used as cover for secret terror activity. The contractor's name started to appear in intelligence reports: Osama Bin Laden. One of his construction companies was known as al-Qaeda ("The Base" in Arabic.)

Israel's intelligence services discovered that Bin Laden joined forces with Zawahiri. During this period, the two grew much closer, with Zawahiri (a surgeon by training) also becoming Bin Laden's personal physician. The new friendship prompted Bin Laden to send some of his senior aides for training in Tehran and in Hezbollah camps in Lebanon. The infrastructure for al-Qaeda's establishment was now ready.

In 1998, an Egyptian-born US Marine called Ali Mohammed was detained on suspicion of involvement in blowing up America's embassies in Tanzania and Kenya. In his testimony he confessed that in 1989 he traveled to Afghanistan and joined Islamic Jihad and Bin Laden. Mohammed said he trained al-Qaeda terrorists on using explosives as well as on intelligence-gathering techniques to be used in attacks on US targets.

Mohammed also testified that he personally handled security arrangements for a Sudan meeting between Hezbollah's Mugniyah and Bin Laden. Following these meetings, Hezbollah provided al-Qaeda and Islamic Jihad with explosives training. Iran also used Hezbollah in order to provide explosive materials designed to resemble rocks. Israeli veterans of the Lebanon wars are well familiar with these bombs.

Mohammed testified that many of the training sessions were held in an Iranian camp run by the Intelligence Ministry. Based on information from the Blue Smurfs file, which was discovered in the NSA basement, the National Commission ruled that senior al-Qaeda members received training and advice from Hezbollah while in Sudan. These are important testimonies for Ellen Saracini. If Hezbollah equals Iran, and Bin Laden's men were trained by Hezbollah, there is a basis to the charge about an Iran-al-Qaeda link.

The jihadist group identified in Sudan maintained close ties with Afghanistan veterans worldwide and tirelessly worked to form global networks and connections. "We felt that something very big was brewing there; something very different than anything we've seen before," an Israeli intelligence official said. "This was not about a state dispatching terrorists, but rather, about an organization that seemingly created itself." A short while later, a special intelligence desk was formed in Israel to deal with the subject. Indeed, the IDF Intelligence Branch and Mossad were the first to recognize the danger.
First burning tower
June 25, 1996. Dhahran, Saudi Arabia. A huge explosion shakes the Khobar Towers in this important oil city. Nineteen US troops are killed and some 500 are wounded. Perhaps this is where the 9/11 terrorists learned about the major effect of blowing up a tower. Officially, the perpetrators of this attack have not been identified to this day.

Watch images of 9/11 attacks from outer space

Yet the current trial includes testimony by then-FBI Director Louis Freeh, who asserts that the attack was an Iranian initiative carried out by Hezbollah in conjunction with al-Qaeda. Senior CIA officials said that the NSA possesses intercepted Bin Laden conversations that prove a direct link to the attack. Attorneys will be using this evidence in the trial to show that Iran was in the picture at the early stages of establishing al-Qaeda.

Mellon's team elicited thousands of documents showing how Iran assisted al-Qaeda in becoming an effective, lethal terror group throughout the 1990s. According to US law, this would be enough to find Iranian authorities culpable and there would be no need to prove direct involvement in 9/11. However, Mellon's team decided not to take any risks and to present the court with evidence which they say proves Tehran's direct involvement in the terror attacks.

Early in the 9/11 commission's work, it turned out that the issue of traveling and visas was a major component in the affair. According to the documents submitted to the court, an immense operation was managed prior to September 11 in order to facilitate the many trips required by the operation.

The reason is clear: Only a well-oiled arrangement of flights and secret border crossings could have enabled the terrorists to enter and exit the US and go to Afghanistan. Anyone who ever tried to get a US visa knows this is no simple matter. A passport stamp of a state on America's list of terror-sponsors immediately turns one into a suspect.

So how did the 19 terrorists manage to enter the US after all? How could it be that US immigration officials in Germany and Saudi Arabia suspected nothing? The answer to these questions remained unknown, until the treasure trove was discovered at the NSA basement. As it turned out, many of the terrorists headed from Afghanistan to Iran, with Iranian officials ordering border control officers not to stamp these passports. The other terrorists passed through Beirut in their many trips, where Hezbollah officials similarly cared for them.

Mellon's team hopes that this is where the "smoking gun" can be found, proving a direct link between Iran and 9/11. If Iran did not know about the attacks and was not involved in them, why did it keep its stamps off the terrorists' passports?

Yet that's not all. The intelligence information submitted to the court includes yet another "smoking gun": In some of the flights, the terrorists were accompanied by figures whose names were identical to the aliases used by former Hezbollah "army chief" Imad Mugniyah and some of his close aides. This would be hard to dismiss as an "odd coincidence."
The Iranian defectors
The materials gathered for the trial include three rare testimonies by three Iranian intelligence establishment defectors. They have been marked as witnesses X, Y and Z. Their videotaped testimonies offer a profound peek into the depths of the kingdom of evil. For long hours they recount their childhood and adolescence in Tehran and how they were hired for the prestigious posts in Iran's spy agencies. Then, they start talking about the ties between Iran, Hezbollah and al-Qaeda.

Witness X testifies about Iran's advance knowledge of the plan to crash passenger airliners into strategic targets in Washington and New York. He testifies that he was present at training facilities for Sunni terrorists in Iran and adds many details about the way Iran's intelligence service utilizes legitimate Iranian organizations such as its airline and shipping company for terror aims.

Witness Y testifies about Imad Mugniyah's personal involvement in training the September 11 hijackers and the shelter granted by Iran to al-Qaeda's men after the attacks. Meanwhile, witness Z says that he was present in a series of meetings in Tehran involving senior al-Qaeda men, local intelligence officials and Mugniyah's men in the months before the 9/11 attacks.

Following the attacks, many senior al-Qaeda men found shelter in Iran. Tehran denied their presence for some time and later admitted that hundreds of al-Qaeda members are in the country and are under "house arrest." For the time being, Iranian authorities have not responded to the lawsuit, and as happened in many cases, the judges may hand down their decision in the presence of one side only. The court could order compensation funds to be taken from frozen Iranian accounts.

This month, Ellen Saracini marks the 10th anniversary of the 9/11attacks. Saracini, who is closely accompanied by two lawyers who invested a special effort in the investigation, Tom Mellon and Timothy Fleming, is working days and nights in promoting the lawsuit against Iran and in commemorating the 9/11 victims. She says that the families who filed the lawsuit have one objective in mind: "Preventing these barbarians from committing further attacks against the United States and further attacks against humanity."